The South African designer Craig Port is famous for the beautiful and aesthetically sound designs that he produces. Not only are his designs aesthetic but cutting edge as well. He runs his very own fashion brand which is quite famous and highly successful. After trying out his hand at all kinds of apparel and designing for the runway, Craig Port has finally turned his attention to manufacturing and producing sexy men's underwear and swimwear, and has left no stone unturned to make the range and collection equally popular. People across the world are clamouring to become a part of the Craig Port family by buying the brand's underwear and swimwear.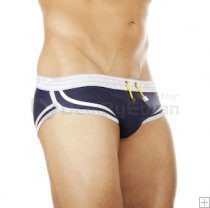 Craig Port manufactures styles of men's underwear and swimwear like boxer brief underwear, bikini swimwear, square cut trunk swimwear, brief underwear, etc. The designs of all style focus on being subtle and soft.
Bikini swimwear made by Craig Port features soft and subtle prints like stripes and simple contrasts of two colours. The material used to craft each piece of swimwear is a blend of 19% elastane and 81% nylon. There is a smaller version of a drawstring in each swimwear which gives you the option of adjusting the fit of swimwear according to the looseness or tightness you desire.
Boxer brief underwear by Craig Port is the perfect specimen of what boxer brief underwear should be. It is neither too tightly fitted nor too loose. It shows off your male physique without any discomfort. The material used is a mix of 8% elastane and 92% cotton, which is the perfect proportion for material with a slight stretch as well as being comfortable.
Brief underwear also forms a part of Craig Port underwear collection and the best thing about this style is that this brand offers two basic styles- one for normal purposes and another which can be worn as swimwear as well. The latter is formed of a mix of 19% elastane and 81% nylon, perfect to be worn while swimming.
The square cut trunk swimwear made by Craig Port is made of a mix of 1% lycra and 81% nylon which helps water evaporate fast after a swim.
Get a look at the huge collection of Craig Port underwear and swimwear by browsing here at Deal by Ethan and get amazing deals and discounts as well!