Do you think that men's Swimwear is just a basic garment? You can't be more wrong!  It is one tantalizing and exciting wear that shows off a man's physique exceptionally. Have you ever thought…if you wear a designer men's swimwear…how it can transform your personality. It can be astounding! Designer men's swimwear is the latest trend, which is innovative and not seen before. The latest design swimwear is something that is new and fresh. Every season there is a new collection of men's swimwear that is both appealing and comfortable.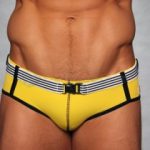 Isn't the most important part of swimming…a hot swimwear? You have to grab the best swimwear so that you look sexy, attractive and feel comfortable. There are numerous names in the market and you can find an excellent collection of some of the coolest cuts at DealByEthan.com.
Designer men's swimwear is enticing for most physiques and you must pick the style that suits you best! It should be comfortable…not too tight to crush your manhood! They can be found in every style such as bikini, trunk and so on…but the best one is what makes you feel confidant.
Most men's designer swimwear absorbs water as they are made from excellent quality material.  The materials typically used for crafting men's swimwear are nylon, cotton, polyester and spandex. You can also find men's swimwear designed in excellent blends for comfort as well as perfect support for your package!
The choice available in men's designer swimwear for men is extensive. Select the one which showcases your body and you also feel proud to wear it. It is not about what the other person is wearing…but the one which has been specially created for your kind of body!
There are different styles of designer men's swimwear like the board shorts, wet suits, trunks, square legs, rash guards, boxer style, triathlon wear and many others. Designer men's swimwear is available in many different fabrics and colors. Go for flashy style and color if you want others to notice you or the classic cut and design for confident and enhanced appearance.
Are you looking to impress your partner…or maybe eying people on the beach…rest assured designer men's swimwear will work without fail. Is it a boys day out…then choose a different style…there is one for every occasion and situation! In fact the range and variety is sure to astonish you. Keep in mind that the most important feature of men's designer swimwear is quality and that is offered at DealByEthan…just a click away!
There is no need to compromise in on the options available in men's designer swimwear as you will find quality, comfort, and relaxation at excellent prices. It is true that quality adds to the beauty of your swimwear…look for the finest and it will be worth every penny you spend on it.
Designer men's swimwear offers styles which will change the way people look at you…and your assets…you will not even want to take them of…so beware!!
Discover the ultimate range of men's underwear and swimwear as well as men's grooming and accessory products which a man must have at DealByEthan.com. It is really unique and different and that actually shows. Eric Salo is the co-owner of DealByEthan, which as one of finest online collections of daring and baring men's underwear and swimwear available today. It is all about men's fashion…with a focus on how guys can look confident and sexy in underwear and swimwear. The best thing about DealByEthan men's collection is that they offer contemporary designs from the top men's underwear and swimwear brands. DealByEthan continues to include men's underwear and swimwear brands which will appeal to the new breed of body and fashion conscious men.