Those who consider swimming to be a serious sport realize the need of proper swimwear that will not only adhere to the body but also provide utmost comfort to the user. How would you feel when you enter the water in loose or excessively tight swimwear? A badly fitting pair of trunks would hamper your sport and spoil your mood. Moreover, being mocked by the crowd for wearing loose or drab swimwear is just so shameful! Therefore, it is extremely essential to grab proper swimwear that will not only provide maximum support to the wearer but also label him as the most stylish hunk on the beach. Kyle King, a brand from USA understands a wearer's demands. Just slip into one of Kyle King's product and feel the difference!
Ace designer Kyle King started designing his outfits keeping in mind the needs of metro sexual men. One glance at the Kyle King Superbiflex Jammer Swimwear proves this point. Unlike ordinary swimwear or beachwear which is made from typical synthetic fabric, this particular jammer swimwear is crafted from unique superbiflex fabric that is specially ordered from Italy. Thus, it can be seen that the brand does not compromise with its quality. The fabric that goes in making this jammer swimwear consists of nylon and spandex. Both these materials ensure complete stretchability and tightness. When the swimmer indulges in his favourite water sport or prepares him for a deep dive, he is assured of perfect tightness and stretch. Looking at the design, one gets a feel that the designer has created this swimwear keeping in mind the chiselled physique of today's fashion conscious men. A 1.25-inch broad waist strap ensures complete tightness around the waist and a spacious pouch provides adequate support to your package, enabling the wearer to enjoy his swimming. So, just flaunt your sculpted physique in this jammer swimwear. Apart from swimwear, this brand also produces shorts, broad shorts beachwear, and tank top T-shirts.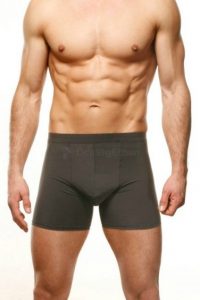 While choosing underwear or a swimwear, it is essential to see that the apparel is stylish and can elevate the comfort level of the user. Grab your jammer swimwear now and behave like the king of the beach! You can find Kyle King Superbiflex Jammer Swimwear at DealByEthan, which offers great discounts on various fashionable menswear.