Mens Swimwear has undergone a wide change in the last few decades. Earlier not much attention was paid to mens swimwear and mostly typical swimming trunks were available, that neither had style nor provided comfort. However time has changed and nowadays more innovations are made with mens swimwear. One type of swimwear that changed the mindset of the metro sexual men and revolutioned the swimwear designs is the bikini swimwear for men. If you really want to get a classy and sizzling look then, 2EROS is your brand.
Jason Hoeung, an Australian designer wanted to launch a line of swimwear that can have the power to make people turn their heads and admire the wearer. Thus 2EROS was launched keeping in mind the needs and demands of today's men. This particular brand does not hesitate to experiment with various shades and designs that mostly suit you. In fact the exclusive shades and designs available for bikini swimwear are indeed praiseworthy. Eros was the Greek God of love and desire. The apparel of 2EROS is designed for those men who love their ravishing bodies and want to be loved in return.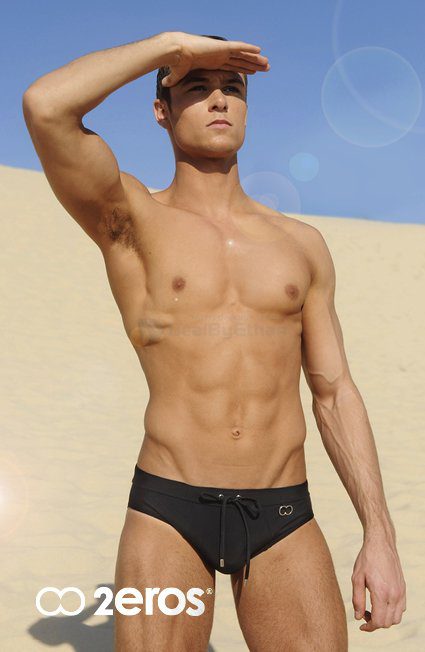 2EROS Black Label Bikini Swimwear Midnight is one product that has become the eye- catcher from the day it was launched. The well- defined unique design is just meant for men who simply want to flaunt their sculpted physique on the beach. It is for those men whose deep dark secrets lay hidden inside them and who know to balance their life against various odds. This bikini swimwear is for those passionate men who get adored for their attractive personalities. This particular swimwear is jet black in shade and comes with metal eyelets and toggles. Moreover it also has a metal logo labeled 2EROS attached on it. In fact this makes it quite attractive in the eyes of the onlooker and uplifts the class position of the wearer. The fabric used is made of 87% nylon and 13 % elastane. These materials ensure stretchability of the swimwear.
Bikini swimwear became popular mainly because of the chic designs and slender cuts. Men with chiseled physique want to get admired by the onlookers. They want to enhance their manly image when wandering on the beach.  Every man wants to be the secret hero of his dream lover. If you really want to be the adorable one, 2EROS Black Label Bikini Swimwear Midnight is for you!
You can find this exclusive product at our website DealByEthan which offers nice discounts on mens apparel!