When you are planning an adventure trip or preparing for a rigorous fitness session, the first worry that comes to your mind is choosing an ideal outfit. You know that a tight or an excessively loose costume is enough to spoil your mood as well as sessions. It is also necessary that the outfit should be crafted from superb quality fabric so that you remain comfortable all the time. If you are a regular gym-goer or indulge in daily jogging sessions, then you must be fervently looking for suitable apparel. Well then, the IQONIQ Athletic Mesh Muscle Top T Shirt will live up to your expectations.
IQONIQ, popular brand from Netherlands specializes in various menswear like boxer brief underwear, bikini swimwear, muscle top T-shirts, shorts, square cut trunk swimwear and many other outfits. Leading designer Curtis Arrendell believe in creating certain men's apparel that ensures maximum comfort to the wearer. However, style is also not neglected by this designer. The underwear, T-shirts, and swimwear of IQONIQ are fabulously trendy and simply enhance your ravishing looks.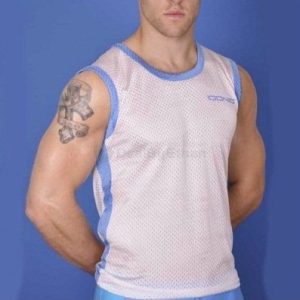 Today's fashion conscious men spend most of their time in gyms or fitness clubs, carving out chiselled bodies. Before slipping in to an outfit, they make sure it enhances their sculpted physique. The IQONIQ Athletic Mesh Muscle Top T Shirt is specially designed keeping in mind the demands of today's metro sexual men. The fabric that goes in making this modish muscle top T Shirt consists of single ply polyester mesh. The cent percent presence of this material ensures perfect stretchability and its special moisture-wicking quality keeps you comfortable all the time.
One glance at this sexy outfit reveals a little shimmer on the fabric and its transparency just makes you look sizzling. Even if you sweat profusely while exercising, do not bother with this muscle top T-shirt. The polyester mesh fabric can get rid of excess moisture, elevating your comfort level as well as preventing the formation of wrinkles on the shirt at the same time. To elevate your style statement, IQONIQ Athletic Mesh Muscle Top T Shirt has the logo of "69" labelled on the back. This muscle top T-shirt, with its perfect cut and superb fit, is ideal for adventure trips or gym sessions.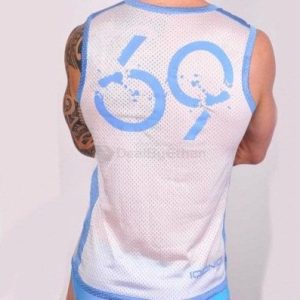 Are you enthusiastic about purchasing the IQONIQ Athletic Mesh Muscle Top T Shirt? Well, come by our website DealByEthan and get this product now! Our site offers great discounts on stylish menswear as well.