Are you looking for suitable beachwear that will allow you to relax and frolic on the sandy beach? Do you yearn for an outfit that will enable easy surfing on the rippling waters and never compromise with your comfort level? Well, in that case, just set your eyes on the exceptionally stylish Litex Boardshorts Beachwear. Usually, men often complain of not being able to get proper beach outfits. Swimwear that looks trendy and colourful often turns out to be of poor quality and causes immense difficulty to a wearer who indulges in rough water sports like surfing. Beachwear should adequately adhere to the body, and at the same time, be stylish and colourful to make heads turn. Litex, a popular Czech brand, understands the needs of water sports loving men.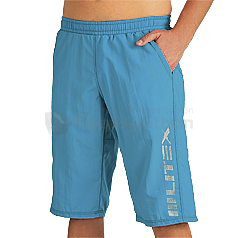 Since its inception, Litex Sportswear has been producing outfits emphasizing the comfort level of the wearer. Their designers are aware that any outfit which fails to elevate your comfort level soon finds its place in the dark corners of your wardrobe. This is especially true in case of beachwear. When you intend on doing any rough water sport activities, you should always look for a costume that enables easy movement of the legs and tightly adheres to your body. The fabric that goes in making the Litex Boardshorts Beachwear retains good elasticity and strechability. Thus, you can be assured of complete comfort and perfect tightness on the beach. Moreover, the stylish design simply enhances your sizzling looks. The presence of the brand logo on the costume uplifts your classy image.
Apart from boardshorts beachwear, this partcular brand also manufactures swimwear, boxer brief underwear, long sleeved shirts, long sleeved T shirts, muscle top T shirts, pants, shorts, tank top T Shirts and other chic menswear.
Grab Litex Boardshorts Beachwear and enjoy your beach activities! You can find this product at our website DealByEthan, which also offers nice discounts on various trendy mens apparel.