The underwear brand Go Softwear is one of those brands that puts on a lot of emphasis on the manufacture of jock straps. The label is full of various types of jockstraps and the designs are unique and creative! One of their bold creations is their snap jock style of underwear which had been quite a rage ever since its introduction!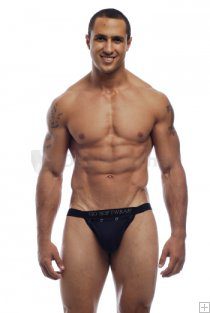 The style of snap front is seen in different cuts as well like boxer briefs, etc. The colours in which the style is available are quite basic- black and white. The sizing of the underwear of Go Softwear is true to size and the fit is medium and quite comfortable. The material used for the main pouch is a mix of 10% spandex and 90% cotton. The material is not only soft but quite stretchable as well! It can be used for all day wearing as well due to the fact that it offers superb air flow and dries out any sweat in a matter of minutes!
Since the original design was conceptualised when microfiber waistbands were a rarity, the waistbands are crafted out of classic elastic material and this style is still employed even today!
The elastic used as the waistband is of medium thickness with enough stretch in it to allow good movement range. The fit, however, remains quite secure no matter what amount of stretchy leg movement is carried on! A basic seam forms the backside of the waist and has the wash/ care tag as well which is made out of a material which is paper-like and has black printing on the top. The outside part of the waist is attached with leg straps that are 1 inch wide. The straps are of the perfect length and give a secure fit at the pouch base.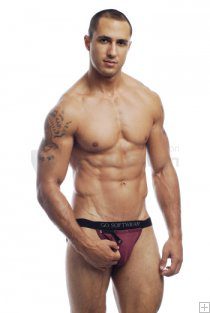 The logo tag of Go Softwear details the waistband's front and is sewn flat onto it. The design of the pouch is most unique and quite forward thinking as well! The built-in c ring panel gives extra lift. The layer covering the frontal part can be detached completely through 7 sturdy snaps ringing the entire pouch. The engineering of the pouch is very interesting and despite the fear that the c ring will prove to be restrictive, it is hardly so!
Visit us today at www.dealbyethan.com to get amazing offers and discounts and save money when you buy Go Softwear underwear!!