The South American country of Chile is where the birth of Ergowear took place and ever since its inception the brand has taken the fashion world by storm with its ideas and has carved out a niche for itself and its range of 'ergonomic' underwear with shaped and extended pouch which enhances the male profile!
There are diverse styles of men's underwear under Ergowear like boxerbriefs, thongs, etc in a variety of prints, colours and materials. Ergowear has two basic lines of men's underwear- Max and X3D. The jock strap underwear of Max range is under discussion here.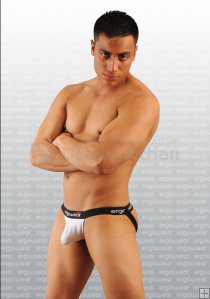 The various styles of men's underwear under Max share some common features like a waistband with the classic Ergowear logo. The typical colours available in the line are black, red, blue, yellow and white. The Max line uses two kinds of materials to craft their underwear- micro modal and another blend of 10% lycra and 90% cotton.
The size of the underwear is true and gives you a great fit without being too uncomfortable or even loose! The material, which uses cotton as the base, is vert soft and quite stretchable, working well with a waistband made from microfiber elastic measuring 1 ¼ inches. The Ergowear logo text is bold and woven and is repeated all the way of the elastic, terminating in a standard seam at the back.
The outside part of the waistband is sewn with the leg straps which add a nice touch, keeping the surface inside absolutely smooth. The wash/ care tag is made of shiny nylon and is attached to the right hand side.
The straps are elastic and are quite stretchy and the elastic microfiber is slick, providing a nice balance between not digging into the backside and keeping the pouch in place.
The extreme shape of the front pouch gives plenty of room, far more than other standard underwear pouches of other brands. The pouch helps in lifting the package, bringing everything forward. The single layer material of the pouch makes the underwear a bit visible. Lot of stitching heavily reinforces the centre seam, and in fact the thick centre seam stitching helps in creating a ridge which is noticeable.
The pouch side is quite snug due to the elastic that reinforces it. Overall, Ergowear Max Jock underwear is an extremely comfortable and sensible choice.
Grab Ergowear Max Jock underwear today from www.dealbyethan and take the advantage of some great discounts and deals!!