The market is flooded with a wide variety of underwear styles ranging from bold and skimpy to body fitting and traditional. While some fashionable and active men are not afraid to show off their bodies in skin revealing and daring underwear styles and cuts like thong underwear, G-string underwear, pouch underwear and jock strap underwear, some men still favour traditional underwear like brief underwear and boxer shorts.
When it comes to trendy and comfortable brief underwear, Croota stays ahead of its competitors with its eye catching designs and patterns. Founded in 2006 in Australia, Croota has acquired worldwide popularity for its wide variety of vibrant and chic designs and low fitting cuts that are intended to help image and body conscious men make a bold statement in their underwear or swimwear. Featuring striking designs and patterns, Croota produces men's outfits that meet every man's daily lifestyle needs.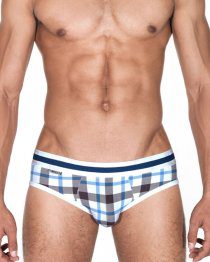 Croota Tartan Forever Brief Underwear is the perfect example of form meeting functionality. Designed to celebrate the male form and to augment your sexuality, this brief underwear can be worn with any pair of pants, jeans and trousers. Featuring classic Scottish plaid patterns, Croota Tartan Forever Brief Underwear comes in two colourful plaid patterns- brown/blue and orange/blue. Made from a blend of cotton (95%) and spandex (5%) materials, this brief underwear features the Croota trademark "Contrast Comfort Waistband" which provides exceptional support without compromising on comfort. The use of body defining and stretchable materials ensures that you comfort and support levels remain at an all time high and in all kinds of situations. While spandex helps to maintain the firmness and flexibility of the brief, providing you with excellent shape retention experience, the cotton material helps to keep you dry and comfortable all day long.  The comfort is further enhanced by the contoured pouch design which offers optimum support to your assets! The low rise cut of the Croota Tartan Forever Brief Underwear ensures that your curves do not fail to look sexy and alluring all the time.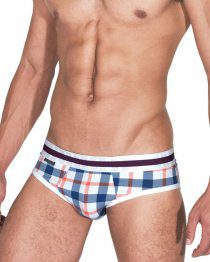 In addition to brief underwear Croota also specialises in bikini underwear, boxer brief underwear, thong underwear, caps, jock strap underwear, loose boxer shorts underwear, square cut trunk swimwear and tank top T shirts.
Are you on the lookout for Croota Tartan Forever Brief Underwear? DealByEthan is the right place to visit if you need any Croota outfit as well as fashionable menswear, men's underwear, swimwear and loungewear at the best prices!