N2N Bodywear (short for Next to Nothing) has a range of exotic menswear that is unsurpassed. Founded in Los Angeles in 1997, N2N has gained a strong foothold in the menswear industry due to the unique vision of the founder, Andrew Makay.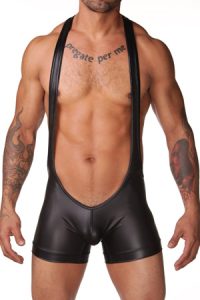 The N2N collection is vast and varied. There are more than 90 sexy bikini swimwear designs with adjustable draw cords at the waist, seamless fronts and contouring pouches. These bikinis are available in various colors and bold prints.
N2N's collection also includes over 40 different styles of boxer brief underwear that are produced using soft, cotton-spandex fabric. They are beautifully designed, seamless and enhancing. The see-through ones are made of 100% polynet and are tremendously seductive.
N2N's G-string underwear and swimwear have a c-ring inside for optimum fit and enhancement, while their sporty jammer swimwear comes in a palette of vibrant colors, varied styles and innovative patterns that both flatter and enhance.
N2N's jockstrap underwear and swimwear are form-fitting and enhancing. The fabrics used are exceptionally sensual and soft, and some of the jockstraps have a unique, detachable button pouch.
The brand's pouch underwear is made of a blend of acetate and spandex that provides a comfortable and enhancing fit, while their thong swimwear and underwear make their own sexy, unique statements. They are both sophisticated and masculine, and some styles are slightly sheer.
The square cut trunk swimwear is available in more than 45 different varieties that come in mono colors as well as varied prints.
The materials used by N2N are of the finest quality. The brand blends many materials in unique combinations to create outstandingly comfortable, soft and silky fabrics.
Whether you're conservative or bold, the N2N range of sexy menswear is perfect for you! For the complete range of N2N products, browse DealByEthan.com today!