Can this hot blooded Mexican underwear brand Joe Snyder really do that for you?
Yes, and they have a whole history of their brand to back them up on this claim. From 1958. under the boiling hot sky of wild Mexico, their founder Mr. Jesus Vargas Abin has crafted clothes and underwear for men who had the courage to be different. Mr. Jesus was one of those people that did his own thing. Kind of like you, right? They weren`t even afraid to experiment: Mr. Jesus' son, that inherited the brand, noticed that men underwear lacked comfort, and attractiveness. So, behold: they introduced the exclusive Excholm design, a garment made of polyamide elasthan. This sort of fabric fitted men`s body perfectly. Everyone called them insane, said they would fail, that they were weird, different. Maybe you can relate to this? Anyway, they proved everyone wrong. In 2010, Joe Snyder is stronger than ever.
Today, in Joe Snyder they use their extensive experience to produce just what you want: not underwear, but the sensational feeling of comfort and excitement you get when you wear one of the products from their long product line. Whether it be bikini swimwear and underwear, boxer brief underwear, g-string underwear, jock strap underwear, long boxer brief underwear, shorts, square cut trunk swimwear, tank top t-shirts, thong swimwear, and thong underwear.
Joe Snyder product line makes use of the best fabrics guaranteed by DuPont ® and supported by the Lycra ® label, so whenever you order a fresh new and exciting g-string or camo bikini, you know you are getting the most advance, top of the line product manufactured using the extensive knowledge about what men want, and the most modern underwear manufacturing technology available.
Their swimwear line for example, can be worn as an underwear, and you`ll never know the difference. This sort of fabric is made to fit, stretch, grip and hold everything together just the way you want it (you know what we mean, right? ;-)) And here`s a bonus for you: Joe Snyder swimwear is unlined, so you can be mystique, and confident at the same time.
Grab yourself a cup of Joe and browse through the selection, today is your day; get yourself something exciting from the powerful Joe Snyder selection at Dealbyethan.com.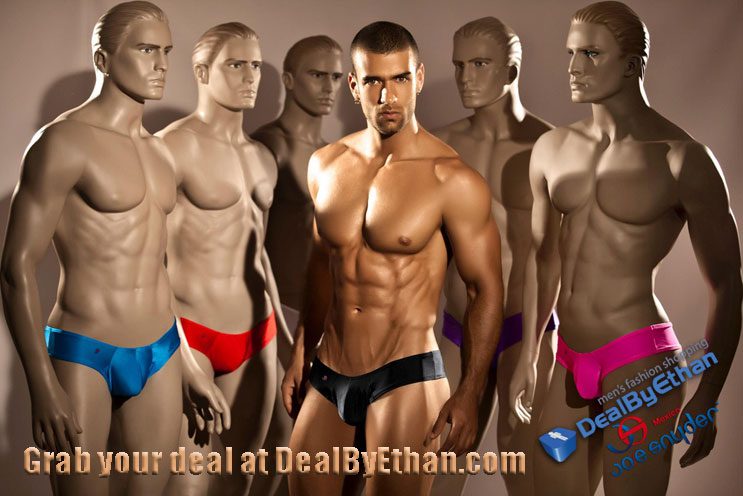 About the author: DealByEthan.com is a leader in men's fashion shopping. With thousands of products from hundreds of brands they are proud to offer customers a shopping experience that is hard to beat. Imagine a choice of literally thousands of sexy men's underwear, men's swimwear, men's t-shirts, men's jewelry and men's accessories at one shop. Save time and effort and drop by now at http://www.dealbyethan.com.