These days, wearing sexy underwear is not just for women, but has become a popular trend among men as well.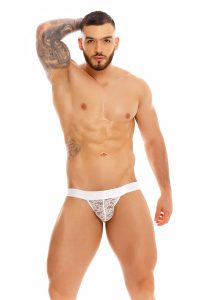 The prototype of men's underwear is the loincloth, which was worn by the early Egyptians, Romans and Greeks. During the Middle Ages, they were replaced by trouser-like underwear with short legs that was tied at the waist by laces. Some of them had flaps at the front called codpieces that were often padded for comfort. During the industrial period, cotton fabrics were used extensively, and this resulted in the birth of manufactured underwear. Jockstraps were eventually introduced to provide extra support for bike riders, and slowly, various materials and styles in men's underwear have been introduced.
The sexy men's underwear industry has evolved through the ages and is now a booming one. There are now many different styles, such as bikini underwear and pouch underwear, which has a specially designed pouch to lift and enhance your assets, as well as loose boxer shorts, long boxer briefs and long underwear pants that are all designed for maximum comfort. G-strings and thongs are available for the more bold and daring men out there, while jock straps are available for athletes and others. All of these underwear styles are available in various types of fun colors and unique prints and designs. Fabrics used include cotton, lace, mesh, microfibers, rayon, dacron, nylon, etc. The most common type fabric used is a blend of cotton and elastic, which provides the ultimate in comfort and fit.
Wearing sexy underwear makes men feel confident and bold. So, why not throw out those old, boring white underwear you've been wearing for years now and surf on over to DealByEthan.com and check out our vast collections of men's sexy underwear. It'll be the best decision you ever made!