The main purpose behind the conception and now it's being here in the fashion world is to make the customers feel sexier and hotter than they can possibly feel. Exciting and innovative kinds of men's underwear feature in their product line that will make you feel like Mr. Hyde instead of Dr. Jekyll!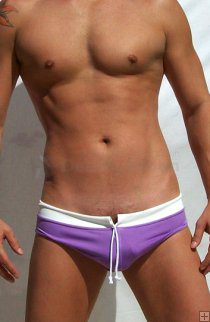 For those who feel insecure about their package their cries for help have been answered by WildmanT! The brand is noted for the special invention- ball lifter c ring which features in almost all the styles of underwear and swimwear. The feature enhances the appearance of the wearer. You not only look great but your confidence receives a healthy increase. However, you may be assured of the effect as well as your comfort as the materials used to give the effect is soft enough not to be uncomfortable or even harmful.
The variety of products and articles of clothing manufactured by the brand include bikini underwear and swimwear, brief underwear, boxer brief underwear, pouch underwear, thong underwear, jock strap underwear, square cut trunk swimwear, etc.
The bikini style swim brief of WildmanT has a sporty look which can be downright sexy. The swim brief is low cut and has drawstrings while some others have a contrast waistband. The style helps you show your assets and the cock ring is built in and detachable in case you do not comfortable.
WildmanT boxer brief underwear is comfort redefined with pouch front and contrast piping stripes. The cut is great and the brief is available in a variety of colours.
Even the jock strap variety of WildmanT underwear is available incorporated with c rings. You can get hold of the normal varieties as well! There are a number of variations in the colour of the underwear to choose from.
The pouch underwear of WildmanT is backless and the cod piece of the underwear stays in place without the use of any thong strings or straps. The shape is perfectly contoured and hugs the body at all the right places to give a snug fit.
The square cut trunk swimwear of WildmanT is available in two variants- one with drawstrings and another without it and with waistband instead. The double lining of the swimwear makes it opaque.
To catch a glimpse of the entire collection of WildmanT underwear, visit us at Deal by Ethan today! You will also be able to get a discount of 3%! Hurry!!