You surely want a swimsuit that will allow you to swim freely when you are at the beach or pool side. You may want people to turn around and cast appreciative glances at your well toned body with the right swimwear, but you can only fulfil this wish when you select suitable swimwear that will help in enhancing your sizzling physique. If you are reasonably fashion conscious, you need to pick up some sexy and hot swimwear that will attract everyone's attention at the pool or on the beach. Nowadays, there is a wide range of stylish swimwear like the bikini swimwear, pouch swimwear, G string swimwear, thong swimwear, jammer swimwear and square cut trunk swimwear for men to choose from.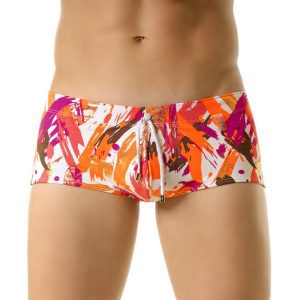 Among these varied designs, square cut swimwear is still preferred by most men. Firstly, this swimwear tightly adheres to the body, making your curves quite prominent! Secondly, it is ideal for those who do not like to wear revealing swimwear. The square cut swimwear is traditional yet quite funky and contemporary.
 Jor is a popular brand creating trendy men's underwear and swimwear. Based in Colombia, the brand has gained immense popularity by creating some funky and body-hugging swimwear that is loved by men worldwide.  This brand creates some very stylish and chic boxer brief underwear, brief underwear, G string underwear, jock strap underwear, bikini swimwear and square cut trunk swimwear.
With the intention of making their square cut trunk swimwear immensely trendy and attractive, the designers at Jor have created funky Jor FOIL Square Cut Trunk Swimwear. The unique prints and abstract patterns of this swimwear contrasted on a light background are indeed amazing! The presence of nylon (84%) and spandex (16%) makes this swimwear quite tight and stretchable, while the presence of a drawstring allows you to adjust this swimwear easily.
If you are keen on getting the Jor FOIL Square Cut Trunk Swimwear or other stylish swimwear for yourself, come to DealByEthan today! Our site offers nice discounts on various men's underwear, loungewear and other mens apparel as well.