Thongs are fast becoming the latest rage in sexy men's swimwear. If you're fond of flaunting, a thong is the perfect choice for you.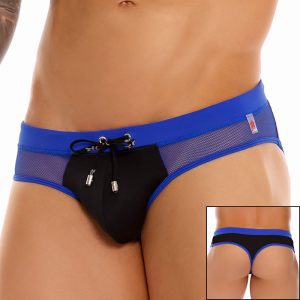 The thong is regarded as the predecessor of the loincloth and is the earliest form of clothing known to man. Many tribal groups used them, and the first public appearance of the thong was in 1939 at the World Fair in the United States when Fiorello LaGuardia, the mayor of New York, declared that the nude dancers of the city should cover themselves up. Rudi Gernreich, the famous fashion designer, introduced the first thong bikini in 1974, and Fredericks of Hollywood started selling them in the early 80's, followed by other brands. Today, the market for thongs has vastly grown and many men now don this bold and beautiful designer swimwear when going to the beach or pool.
Leading brands such as Joe Snyder, Gary Majdell and many others produce thongs, and you can select from more than 150 different styles, colors and fabrics. They are produced in sexy solid colors or mind-boggling mesh. You can opt for monocolors or fun and bold prints like jungle and cheetah prints, in addition to rainbow and camouflage prints. You can also opt for stripes and checks. In addition, bulge, c-ring and launch thongs lift and enhance so that you always look your best.
Most thongs are made from materials like nylon, Lycra and spandex in varying proportions. The materials are stretchy so as to provide maximum comfort and a perfect fit. Some thongs are without liners so they can be worn as swimsuits, underwear or sportswear.
Check out the latest in thongs at DealByEthan.com today!