Hey Guys…I have some really exciting news for you. 2EROS is coming up with a new range of V04.10 Black Label swimwear! Are you a brief or a trunk man…either ways you will find the V04.10 Black Label at DealByEthan.com stylish and comfortable? All designer who create swimwear make all efforts to bring something exciting and novel in their product. Jason Hoeung, the brilliant Australian designer at 2EROS on sale at DealByEthan distinguishes himself by consistently delivering quality and style.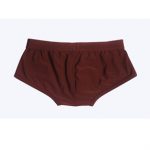 Swimwear have come a long way and you don't just get them in classic white…they are available in various cuts, style and colours. Not just that you can even get them in bamboo and leather. Why am I saying this…? Because this has made it very difficult for a discerning guy to get the perfect swimwear for him! When you buy a swimwear what do you look for…comfort style and of course the fit. V04.10 Black Label swimwear offers it all! You can be assured that you will look and feel great without being crushed in the wrong places!
Let's have look at V04.10 Black Label from 2EROS. It is available in 2 colours Red Earth, the inspiration comes from the exotic and timeless hues of the landscape of Australia and
Midnight, offering you a stylish and sleek look with an aura of mystery and darkness. They both are unique colours which are sure to get you noticed in the beach party or even the shimmering waters. It is faultless in its simplicity and this sexy swimwear has been crafted from an ultra-supportive nylon/ Elastane blend. With its elastic band, the adjustable drawstrings and double reinforced front pouch, the V04.10 Black Label men's swimwear is truly a show-stopper.
Don't wait…book now as shipping starts from 12th October 2010! Be the first one to have them!
Discover the ultimate range of men's underwear and swimwear as well as men's grooming and accessory products which a man must have at DealByEthan.com. It is really unique and different and that actually shows. Eric Salo is the co-owner of DealByEthan, which as one of finest online collections of daring and baring men's underwear and swimwear available today. It is all about men's fashion…with a focus on how guys can look confident and sexy in underwear and swimwear. The best thing about DealByEthan men's collection is that they offer contemporary designs from the top men's underwear and swimwear brands. DealByEthan continues to include men's underwear and swimwear brands which will appeal to the new breed of body and fashion conscious men.