Are you proud to show off your body or your sensuous manhood? 2EROS Black Label Swimwear has been crafted in chic styles to do just that and even conceal what you don't want to… that is if you have anything to hide at all!
Men's swimwear has to be both practical and fashionable, which may not be always easy to find…that's what you think? This is not true…there are some online stores such as DealByEthan.com which offer different styles of Black Label range of men's swimwear which are sure to impress you. They have invested precious resources to get you the finest range in men's Black Label swimwear.
You can't go very far into men's comfortable and stylish collection of swimwear without running into the name Black Label. It is for the no nonsense man who is confident and knows what he wants. Black Label represents some of the best in men's wear and if you are not very concerned about the price…which is really not too much…this is the one for you. It is designed from the top quality fabric which is a blend of 87% nylon and 13% Elastane. Do you want to stick out from the crowd…don't worry you will!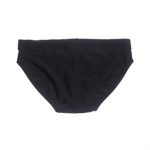 V02•10 and V04•10 the new range of swimwear from Black Label, are available in brief and trunks styles in 2 exotic shades… red earth and midnight. Main highpoints of this sexy swimwear are the metal eyelets, toggles as well as the metal 2EROS logo on the garment. Black Label offers men's sexy swimwear which will outlast even the funkiest beach party. Guys, you can wear the hot swimwear even when you want to get special attention or are planning to get out of it altogether!
2EROS has a collection of innovative designs and a commitment to high-end quality. Just log on to DealByEthan.com and order the latest craze in men's swimwear. It will available for shipping from 12th October 2010. At DealByEthan.comyou will find the latest deals and styles from the world of men's fashion. Get the heads to turn around without breaking your bank and the best thing is you don't have to search high and low to get some of the best designs.
2EROS is the best choice for men who are looking for a simple sleek and sophisticated collection of excellent a range of swimwear. They don't believe in being mediocre and go beyond the regular swimwear colours. It is the concept of Jason Hoeung, a brilliant Australian designer. 2EROS distinguishes itself from others time after time by delivering excellence with exceptional and attention-grabbing designs, which are fitting for the man who wants attention.
A small interesting fact for you guys…'2EROS' can be interpreted in 2 two ways… 'Zeros' or 'To Eros'. 'Zeros' depicts two circles inside the 2EROS logo, which is a visual representation of the male assets or Eros, who is the Greek god of love and lust and also signifies sex, male, passion and virility. This extraordinary 2EROS store was launched online internationally in 2008 and you can also get a range of 2EROS collection selected other stores.