2EROS is a brand that manufactures men's underwear aimed for that class of men who do not like fuss or frills, but just want underwear that is comfortable and full of functionality and utility. The designs of the brand of underwear are clean cut and slick, but do not compromise on the style factor.
The concept of the styles of 2EROS underwear was put forward and developed by Jason Hoeung, an Australian designer. The online store of the brand was set up in June 2008 and the products are available with selected stockists. The main differentiating factor of the brand is the fact that it delivers eye catching and unique designs but without any compromises made on the materials used for the manufactory!
Mediocrity is strictly rejected by the brand and their sights are set up on delivering only high standard stylish products which have unique colour combinations and palettes! In fact, the name suggests a tribute to Eros, who is the Greek god of love and lust which symbolises male virility, passion and sex! This makes all the more sense, as the brand designs underwear that differentiates men and their styles- whether it is at the beach, pool parties or resorts or even just staying underneath your clothes!
In the constant endeavour of reinventing the way men look and themselves as well regarding styles of underwear, 2EROS unleashes new lines of underwear for men. In the latest attempt they have come up with brand new lines- Icon 3 and Black Label. Both the lines boast of great fits which are perfect for any season. Their stylish and high quality range of men's underwear is the best friend for those men who are confident of their bodies and fashion conscious at the same time.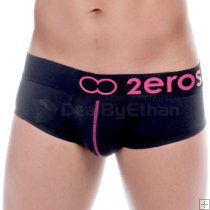 Black Label is for those no nonsense guys and the underwear gives a mysterious and dark appearance. The underwear is sophisticated and sleek and the material used is a mix of 13% elastane and 87% nylon with the logo of the brand. Get it today!
Under the Icon 3 brand there are a variety of underwear styles like brief underwear, shorts swimsuit, boxer briefs, etc. all of them are available in styles which features sleek and sophisticated pattern-like stripes which do not overwhelm the underwear's style statement. They are of different bright hues and colours as well.
The online underwear store www.dealbyethan.com offers a discount of 10% on all 2EROS products. Avail of these discounts by visiting their website today.