When you want to purchase men's underwear or swimsuits… what are you are really looking for? Is it not to attract attention by enhancing the right parts?  Don't be in a hurry now to get a pair that will fit you well…one of the initial things to understand is what really makes you look sexy and not just simply boring. After all, you want to look smart as well as sensual and attract the attention you are craving for. Today the bold and metro sexual male can afford a deluge of different styles and colours from underwear and swimwear.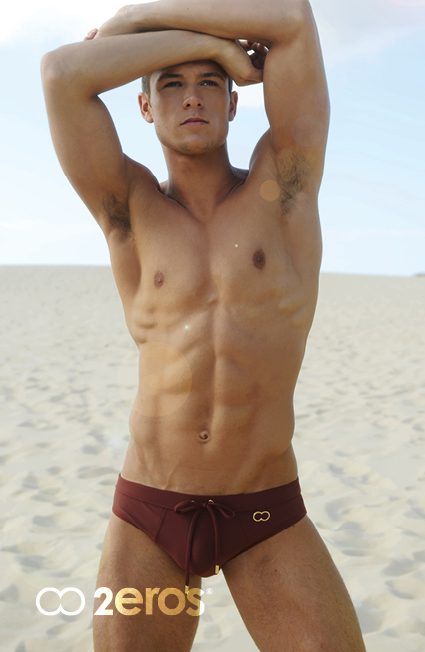 There was a time when it was tough to find sexy and exciting men's underwear and men's swimwear…but not anymore. It is as simple as clicking your mouse right from home! DealByEthan.com has a huge collection of briefs, boxers, square cuts, men's binkies or whatever you are looking for at the best prices…not just that they are also offering discount on the 2EROS men's products including underwear and swim wear. You didn't have a choice in what to wear when with your partner on bed!
DealByEthan has on offer a wide collection of 2EROS…some from the extensive and spectacular range include:
2 EROS Icon 2 Boxer Brief underwear in Black is available in $31.90
2 EROS Icon 2 Brief underwear in Green for only $29.90
2EROS U01.01 Icon Brief underwear in attractive Magenta for just $21.90
2EROS U03.01 Icon Boxer Brief underwear Pink-$23.90
2EROS V03.01 Icon2 Square Cut swimsuit Gun Metal/Blue-$ 66.90
2EROS V02.01 Shine Bikini swimsuit Titanium for $58.90
For more product details you can visit DealByEthan. com
There is a positive deluge of designs from 2EROS in men's underwear as well as men's swimwear. There are some which surely are baring and daring, but others are straightforward, practical with class. It is not only the designs which have changed in men's underwear and swimsuit…it is also how guys want to see themselves. With thongs, g-strings and bikini swimwear for guys in the market show how this revolution has taken place and DealByEthan being a step ahead offers you some of the best and erotic options in the market today.
Are you wondering if the collection is for just a certain kind of men? No…it is for men of all tastes as well as ages…it never hurts to have some fun in life with your partner or on the beach or by the pool. Maybe you have never tried being bold…it's never too late…just go on and order a sensuous pair of 2EROS from DealByEthan.com. You can get 3 pairs of 2EROS U01.01 Icon Brief Underwear in assorted colours in just $ 58.90 which is a 10% discount from the original price of $65.70.  In fact you can save 10% on every 2EROS men's wear which is simple yet an exotic brand right from the voracious Australian countryside.
Hey guys…are you feeling especially excited and playful, just select from the bright magentas, yellows or the florescent green collection from 2EROS. You will get them in different fabrics and designs which look startling and make numerous heads turn. When you decide to try out a new look, try different styles and cuts which are easily available at DealByEthan.com. A small tip for you…while shopping for your underwear or swimwear, don't dither from trying something very different!
Discover the ultimate range of men's underwear and swimwear as well as men's grooming and accessory products which a man must have at DealByEthan.com. It is really unique and different and that actually shows. Eric Salo is the co-owner of DealByEthan, which as one of finest online collections of daring and baring men's underwear and swimwear available today. It is all about men's fashion…with a focus on how guys can look confident and sexy in underwear and swimwear. The best thing about DealByEthan men's collection is that they offer contemporary designs from the top men's underwear and swimwear brands. DealByEthan continues to include men's underwear and swimwear brands which will appeal to the new breed of body and fashion conscious men.