Among the various designs of T Shirts that are always popular among men, tank top T-shirts deserves special mention. Their design and the cut ensure that this outfit can be worn during sports, on the beach, during rigorous fitness sessions and even when you are relaxing. Some tank top T-shirts are dabbed with chic prints and are usually worn by stylish men at informal parties, discos and nightclubs. Nowadays, with so many brands manufacturing trendy tank top T-shirts for men, it is indeed difficult to select a few. However, one brand that has become a household name is Clever Moda.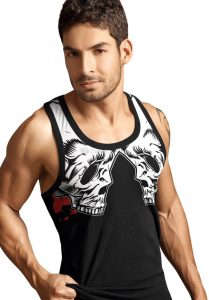 Clever Moda is a Colombian brand that specialized in various menswear. Since its inception in the year 2004, this brand has been focusing on producing outfits that are not only stylish but also elevate the comfort level of the wearer. Renowned designers bring out innovative designs that add to your sexy looks! Besides tank top T shirts, this South American brand also produces long sleeved T shirt, pants, boxer brief underwear, brief underwear, bikini underwear, thong underwear, square cut trunk swimwear and bikini swimwear. All the outfits are designed from premium fabrics that ensure utmost comfort.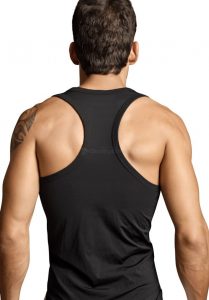 If you have developed a chiselled physique, then the Clever Skeleton Tank Top T Shirt is the best outfit that will help you flaunt this asset. The fabric that goes in creating this stylish tank top T-shirt consists of cotton (91%) and spandex (9%). Cotton elevates your comfort level during the scorching summer and spandex ensures stretchability and tightness. Thus, the outfit finely adheres to the body without compromising with your comfort. Exceptionally stylish with a distinctive skeleton print on the front, this tank top T-shirt can make it wearable at various informal occasions. The skimpy cut with a round shaped neckline allows you to show off your manly build.
You can find the Clever Skeleton Tank Top T Shirt at our website DealByEthan, which offers nice discounts on different stylish mens apparel.