The men of today are not only just mature or boyish, but are a unique combination of both! They have all the attributes of playfulness, maturity, seriousness and boyishness in equal quantities. The brand BOIISH Underwear aims to produce underwear and swimwear that is complementary to the regular beachwear, reflecting the fashion sense and lifestyle of today's men as well as meeting their daily needs.
BOIISH Underwear manufactures products for men like jumpers, boardshorts beachwear, bikini swimwear, pants, muscle top t shirts, square cut trunk swimwear, shorts, tank top T shirts, etc.
The bikini swimwear of BOIISH is available in a variety of styles like back stripe, back slider, band and body, 2 toned, etc. But in general, it has been seen that the bikini swimwear is available in colour combination of two colours, which makes it bright and warm. Some of their styles even have drawstrings, which helps in adjusting the waist for a perfect fit. The material used for the style is a mix of 15% spandex and 85% nylon and has been fully lined with a blend of spandex and polyester. The fabric and workmanship is of the highest quality.
Boardshorts swimwear from BOIISH is a brilliant mosaic of colours which is bound to attract the attention of all! The fabric used is a mix of nylon and cotton. Some come in Bermuda styled patterns with an elastic waistband at the back, which lends support, while others have a button, zipper and front pull string (the works!) which give you the perfect fit. The style is clean cut which provides ease and comfort. Each leg has pockets.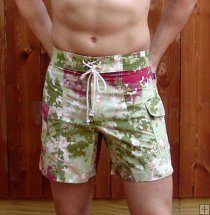 The shorts produced by BOIISH are quite a new addition to their list of apparel for men. The material used is 100% cotton, so you can be rest assured that they are extremely airy and comfortable. The material used makes the shorts very lightweight, further adding to the comfort factor of the apparel. There is small embroidery on the front. There are also vents and side pockets which make the shorts fully functional and utilitarian. Their jersey style shorts are available in colours like heather grey, navy and golden yellow. The craftsmanship and fabric used is of highest quality, leaving you with no room or necessity to complain.
To take a look at the entire collection of BOIISH Underwear and swimwear visit us at Deal by Ethan, where you can take home apparel at amazing discounts!