The three attributes that men look for while shopping for underwear and menswear are comfort, style and quality. Finding all these attributes in one brand may have been a difficult thing once but the scenario has changed now. Dick & Jane menswear gives you all this and more, with their line of menswear and underwear that is very popular amongst men of all ages due to the fact that the brand pampers its customers and makes them feel like gods.
Their entire collection of underwear and menswear is a reflection of European history and their main area of distinction from other brands is their focus on minimalistic designs and cuts that exude sophistication. Their creations are tailored to perfection so that they give the wearer a great fit.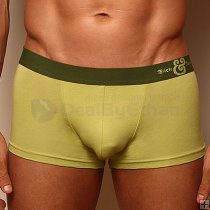 Dick & Jane boxer brief underwear is available in many kinds of colours and the material used is woven cotton fabric consisting of 6% elastane and 94% cotton. A technology called anti-piling processing is used which gives you a great fit and enhancement.
The brief underwear of Dick & Jane is also one of a kind with the understated style and elegance that is reflected in them. The same fabric used for their boxer briefs is used to make them as well. Dick & Jane menswear prides itself in using the best quality material available.
Dick & Jane knitwear is available in two basic styles for men – the classic pullover, and sexy jackets. You can get them in v necks as well turtle necks, which offer maximum protection from the cold. You can take your pick accordingly and the knitwear can be got in a mix of materials like cashmere and silk on the one hand, and cotton and wool on the other. You can select some nice designs from various soft and muted colours.
The long sleeved shirt made by Dick & Jane menswear is a true reflection of understated charm and elegance. Wear one with sleeves down for a formal look at the office and wear the sleeves rolled up for a relaxed and casual look. You can electrify all with their shocking pink shirt and add the ultimate sophistication with their white shirts. Pick from solid coloured and prints.
Dick & Jane produces short sleeved t shirts for the male population that outlines the male body in the perfect light. There is also a tank top t shirt for men made by the brand, which is comfortable and fits well.
Get answers to all your varied preferences by browsing through the range of Dick & Jane menswear at Deal By Ethan today!