Nowadays, men are just not satisfied with ordinary, plainly designed swimwear.  Every apparel they pick needs to be trendy and designed in a way that helps in enhancing their manly physique, particularly when it comes to swimwear. Ace designers are coming up with different swimwear designs that help in enhancing and exposing a well-sculpted body. Men no longer like wearing old, loosely fit swimwear that used to lie neglected in one corner of their wardrobe. Metro sexual men are quite conscious in picking up appropriate swimwear that has both style and a great fit.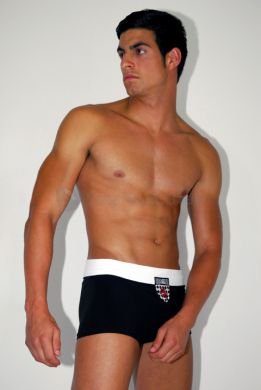 Though you will come across different renowed brands that are manufacturing various trendy swimwear, the brand that has actually understood the needs and demands of today's men is Gabriel Croissier. Originally from Barcelona, this brand not only plays with colours but believes in using fabrics that are of very fine quality, and their swimwear never compromises with the comfort of the wearer. Besides square cut trunk swimwear, you can find bikini swimwear, jammer swimwear, shorts swimwear, bodysuits, boxer brief underwear, brief underwear, tank top T shirts, short sleeved shirts and different other apparel. Each outfit is an outcome of immense effort and refined creativity.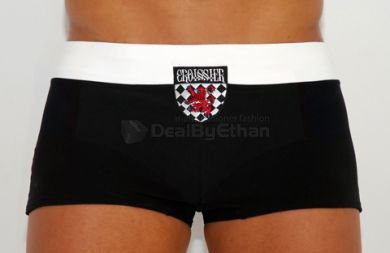 Gabriel Croissier Warren St. Square Cut Trunk Swimwear is quite different from any ordinary trunk swimwear. The fine cut and the tight fit simply makes you look sexy! It is neither too long nor too short, but just the right size to make heads turn and secretly appreciate your well-toned body. The fabric that is used for crafting this chic swimwear consists of polyamide and elastane. Thus, you can be assured of the perfect stretchability and elasticity of this swimwear. This swimwear will tightly adhere to your body even if you indulge in any rough water sports. This black coloured Square Cut Trunk Swimwear with a contrasting white waist strap and the brand logo in the front can become anybody's favourite!
If you are keen on procuring this swimwear, then, visit our site DealByEthan today! Our site offers huge discounts on other menswear as well.