No, we`re not talking about those baggy trunks your father left you when you were 15, or Grandpa's trunks that make you look like you`re parasailing and just waiting for the boat to turn around. That's not what today`s modern men hit the beach or poolside in. The men`s swimwear industry has blossomed over the years, providing a huge selection of exciting garments designed to make modern men look sexy and feel comfortable. An end has come to the puffed up designs and limited color choices. And it`s about damn time.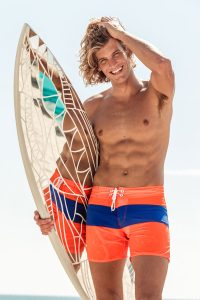 The men`s swimwear industry has been meticulously searching and developing new swimwear concepts, which has resulted in amazing new fabrics that are lighter, safer, more durable, dry faster and are much more resistant to the rays of the sun. Today's designs fall into categories like "bold" and "brave" and are for fearless men who are not afraid to show the world what they've got.
Men`s swimwear is no longer about simply covering up your genitals. It is about making a statement, displaying your sense of style and elegance, accentuating your manly physique and boosting your self-confidence.
At DealByEthan.com, these trends in men`s swimwear are celebrated by providing you with the most extensive and attractive swimwear lines on the internet. You can choose from hundreds of brands and thousands of swimwear garments, and explore the most daring designs, concepts and mesmerizing colors available on the market. At DealByEthan.com, you will see cuts that will shock and shake you, ideas that will impress and tease you, and fabrics that will blow your mind!