A stylish tank top is an indispensible item of clothing in any fashionable man's wardrobe. Due to its sleeveless design, a tank top offers optimum comfort to the wearer, enabling him to calm down and relax anywhere, anytime. Whether you are on the beach or in a night club, a versatile tank top is just what the fashion doctor ordered. If you have a sculpted physique, you will definitely look great in your trendy tank top. Wear your tank top to show off your tan on the beach! A good tank top can truly be your favourite piece of clothing during hot and humid summer days.
Men's tank tops are available in a variety of styles, colours and designs. You will come across loose tank top T shirts, fishnet tank top T shirts and embroidered tanks. Men's tank top T shirts are made from a variety of materials like cotton, lycra, nylon, cotton blends and terry cloths. Sleeveless tank tops are very appealing as well. You will also find a variety of neckline styles in tank tops. According to your choice and preferences, you can either go in for a round neckline or a V neckline.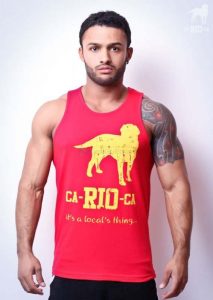 Tank top T shirts are men's versatile essentials. Wearing a tank top T shirt in summer can ensure optimum comfort. Just team a tank top T shirt with a funky pair of flipflops and look stylish and casual anytime! You can also wear your tank top T shirt in the gym with your stylish pair of running shorts. In the past few decades, a number of brands have come up that offer comfortable and stylish tank top T shirts for men. But, one brand that has gained immense popularity in the last few years is CA-RIO-CA. CA-RIO-CA is well accepted by fashionable guys for creating some casual, funky and sporty outfits. CA-RIO-CA is a popular swimwear brand that has its base in Rio de Janeiro, Brazil. Actually, the name of the brand is derived from the indigenous Tupi tribe of the city of Rio. The native inhabitant of Rio de Janeiro was known as Carioca. The spirit, passion, colours and energy of Rio de Janeiro are reflected in CA-RIO-CA products.  You can find a wide range of men's products like bikini swimwear, square cut trunk swimwear, shorts, short sleeved T shirts, long sleeved T shirts, beach towels, hats, necklaces, pendants, armbands and bracelets.
If you want to showcase your buffed-up curves in a most casual manner, try a CA-RIO-CA Logotipo Tank Top T Shirt.  With its round neckline and sleeveless design, this T shirt is indeed cool and funky.  Featuring an eye catching CA-RIO-CA graphic on its red background, the CA-RIO-CA Logotipo Tank Top T Shirt can be worn on the beach, night clubs, gym and at casual parties. Made from quality fabrics, this tank top T shirt ensures maximum comfort all day long.
Do you want to grab a new CA-RIO-CA Logotipo Tank Top T Shirt? Visit DealByEthan to get this tank top T shirt as well as a variety of men's underwear, swimwear, loungewear and other stylish menswear at affordable rates.