Jocko brand of underwear can not only make you look good but can also make you feel good. The brand boasts of qualities and features that are par excellence. Made from the finest materials and microfiber, the brand is ideal for those men who like to move around with complete freedom. Jocko is different, and we can easily say that because the fabric used for creating Jocko menswear is breathable, stretches easily and feels great. Jocko menswear is spectacular and features cuts, patterns and prints that is hard to locate elsewhere.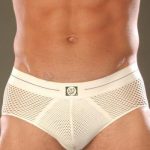 You can spot Jocko apparel even from a distance, thanks to its unique high quality construction and distinct bull dog logo. Those who often like to hit the gym and lead an active lifestyle will definitely admire Jocko for it offers a great fit and has some of the best looking and fitting gym wear. Jocko brand of T-shirts are a great way to flaunt your muscles if you have them. Jocko has always believed in providing men with unique cuts, patterns, prints and colors.
Jocko offers a wide range of apparels including Bikini Swimwear, Boxer Brief Underwear, Brief Underwear, Jock Strap Swimwear, Jock Strap Underwear, Long Boxer Brief Underwear, Muscle Top T Shirts, Short Sleeved Shirts, Short Sleeved T Shirts, Shorts, Shorts Swimwear, Square Cut Trunk Swimwear, Tank Top T Shirts and Thong Underwear. In a nutshell, it provides almost every type of apparel that men need. This is precisely why the brand is highly appreciated among men who like to be always prepared.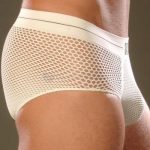 The product being discussed in here is JOCKO Underwear Jeffrey's Mesh Brief Microfiber 120. Crafted with great amount of dedication, patience and creativity, this particular underwear is made from fabric of the highest quality. It is made from fabric which is essentially a mix of 97% Microfiber Nylon and 3% Lycra. The fabric is very breathable and flexible and perfect for uplifting the wearer's assets. It is made using the inline seamless technology that offers great support, fit and durability. Men who are seeking comfort and at the same time do not wish to compromise with fit and quality of material used for designing underwear can safely invest in this fabulous underwear, which is a true masterpiece in itself. It covers the wearer's butt perfectly well and at the same time also makes him look sensuous and appealing.
You can place your order for JOCKO Underwear Jeffrey's Mesh Brief Microfiber 120 and a range of other brands and menswear at DealByEthan! Hurry! Visit today and grab exciting discounts and offers!