Are you looking for the most stylish pair of shorts swimwear? Well, if you are indeed looking for sporty swimmer shorts, you need to be aware about a few things. Firstly, take a critical look at your physique. Do you possess a lean and wiry physique? Or you have a buffed-up body? Nowadays, there is a diverse range of styles and designs available in men's shorts swimwear. You can go in for broad shorts or aqua shorts. Remember to always pick designs that look good on you and perfectly expose your tanned physique!
In the competitive fashion industry when each brand is coming up with unique designs and styles in men's swimwear, JM underwear has gained popularity for designing trendy underwear, swimwear and outfits for contemporary men. Based in Canada, JM products find place in every fashionable man's wardrobe. JM's range of swimwear includes stylish and bold shorts swimwear that men find comfortable to wear at the beach.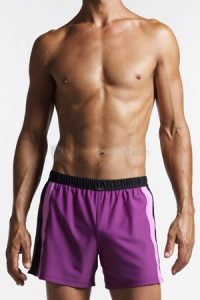 Bursting onto the scene when men were looking for unconventional and sporty designs in swimwear, JM has gained immense popularity in the last few years.  The ace designers at JM believe in using high quality materials for creating men's apparel. As a result, JM underwear, swimwear and outwear is known to provide utmost comfort and exceptional fit to the wearer.  Apart from shorts swimwear, JM offers boxer brief underwear, brief underwear, jock strap underwear, bikini swimwear, long underwear pants, thong underwear; square cut trunk swimwear, shorts short sleeved T shirts, muscle top T shirts and tank top T shirts for men.
If you have an athletic physique, do not shy away from exposing it at the beach. And in JM Waves Athletic Side Stripes Shorts Swimwear you can flaunt your curves without any hesitation! The fabric that is used for making JM Waves Athletic Side Stripes Shorts Swimwear consists of nylon (80%) and spandex (20%). Both these materials help in retaining the stretchability of the swimwear, enabling you to swim freely or enjoy varied water sports without facing any kind of discomfort. This pair of shorts swimwear is designed with a considerably broad waist strap that provides extra support and tightness.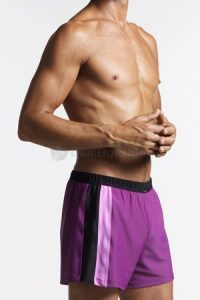 JM Waves Athletic Side Stripes Shorts Swimwear is available in three vibrant colours- grape, blue and lime. What makes this pair of swimmer shorts striking is each of these colours are contrasted with light and dark striped patterns. For instance, the presence of black and light grape coloured stripes at the sides of the grape coloured JM Waves Athletic Side Stripes Shorts Swimwear adds colour and effervescence to it.  The blue shorts are contrasted with orange and black stripes, whereas the lime coloured swimmer shorts are contrasted with grape and black stripes. JM Waves Athletic Side Stripes Shorts Swimwear are perfect for those who are not very comfortable in skimpy and revealing swimwear styles.
To purchase this pair of shorts swimwear or trendy men's underwear, loungewear and other menswear, visit DealByEthan today!