Although there is a wide variety of beachwear including skimpily designed G string, thong and bikini swimwear, for many men shorts swimwear is the most favored choice among all kinds of beach attire. Shorts swimwear is typically of three kinds – water shorts, boardshorts and aqua shorts and the wide array of designs and styles means that there is something for every body type. You can wear these cool and casual shorts with a beach shirt and a pair of flip flops and look laid-back while indulging in your favourite water sport activity.
Offering a combination of New York City's cosmopolitanism and Barcelona's refined European style, swimwear from BWETis extremely popular amongst the fashionable male population. Boasting of design centres in both Barcelona and New York City, the designers at BWET are known for crafting sensual and irresistible men's swimwear that meet the fashion needs of today's dynamic men. Manufactured entirely in Spain, designer creations from this renowned fashion house make use of raw materials of the highest quality with special attention to detail.Apart from chic and voguish shorts swimwear, BWET is also well known for its selection of bikini swimwear, boardshorts beachwear and square cut trunk swimwear for men.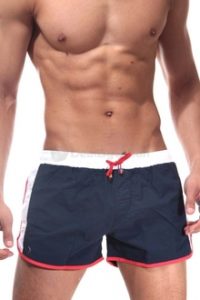 Offering maximum coverage and style quotient, BWET Essex Shorts Swimwear is ideal beach wear option for your various beach parties and water sports activity. Available in an array of colour options such as orange, navy, lime, turquoise and red, this shorts swimwear have been crafted from 100% polyamide fabric. The smooth and stretchable fabric provides a snug body sculpting fit along with fast drying action. Offering comfort and support all day long is the mesh brief lining that prevents any kind of chafing.
Along with an elastic waistband in contrasting shade, these beach shorts sport a stylish drawstring as well so that yourshortsare secure in the water. Most importantly, the presence of the drawstring will enable you to adjust your swimsuit accordingly. Boasting of UV50+protection, this swimsuit is designed to give your comfort and sex appeala boost whenever you wear them to the beach or the pool! Combining function and fashion, this shorts swimwear from the BWET line offers a relaxing and slim fit and is perfect for creating a masculine laid back look that will draw instant attention from people nearby!
To get your hands on a pair of BWET Essex Shorts Swimwearor any other BWET outfit, simply visit DealByEthan today! Explore the different and diverse selection of smart and chic men's underwear, menswear, swimwear and loungewear available on our site at attractive rates!