Brand new sexy men's underwear brand Good Devil has been launched a while back and has already taken the underwear scene by storm! Good Devil aims to produce underwear styles and designs that have a touch of erotica! The use of mesh styles that hide nothing and the inclusion of extreme pouches make this underwear truly outstanding, innovative and bold and risqué!
The jockstrap style of Good Devil underwear with net mesh line has many types of men's underwear like trunk, g strings and low rise briefs. There are many choices regarding the colour of the men's underwear in question that include red, black, white, blue, etc. There are some common features in their net mesh underwear like a shaped pouch. The upper half is made of synthetic fabric blend that is shiny and contrasts with the pouch's lower half which is made of open net fabric. The virtue of the open net fabric is that everything can be seen by anyone and everybody! One thing to be kept in mind while buying this style of underwear is that it is not meant for those who are bashful or timid!
Microfiber elastic of high quality forms the waistband and it is quite soft and texturized. The waistband provides great comfort and stretch to the user. Almost all the styles of Good Devil underwear have the logo of the brand repeated around. The waistband's back seam boasts of unobtrusive and clean construction. The jock's tag is not at the waistband's centre-back as may be thought and assumed by most, but the pouch's interior is located where it is sewn.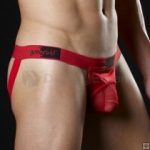 Reinforced elastic rings around the sides as well as the upper curve of the pouch, creating a nice shape and lift. The open weave of the net material which makes absolutely transparent and see-through! Exciting! The shaped panel which is kept attached to the pouch base and then again attached to the underwear's leg straps makes for a great design! A body contouring fit is created with the help of the extra panel and helps in lifting and shaping. The wide leg bands don't dig in the backside and create a flattering look!
Get Good Devil underwear at very affordable prices by availing of the amazing discounts and offers only on the best online underwear store for men- Deal by Ethan! Rush now!!