The men's underwear brand Pulse was set up in the year 2007, and since then, it has a long way! From the days of its initial launch, the underwear brand has constantly evolved and grown in the many styles and lines of underwear that it has launched. Throughout its time in the fashion industry, it has provided constant reinvention in fabric options and cuts. The Sock Jock line of underwear that they have unveiled does not disappoint either!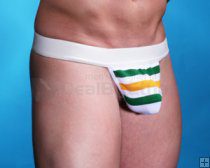 The material used for the construction of the style of men's underwear is the same as a classic gym sock! I know it sounds very unconventional! However, the material surprisingly proves to be extremely comfortable and suitable for underwear! The material's mesh like weave helps keep you cool due to its superb breathability! A virtue of this material is that you can wear it for the entire day and for strenuous physical activities as well!
The style of men's underwear is available in a number of striped patterns in the form of old school socks and that too in a variety of colours like turquoise, gray, black, green, red, yellow, blue and their various variations as well!
The jock has two versions- one having just a sock-like pouch without any straps and the other with the traditional back straps.
The straps and waistband are in white, except for one version in black stripes with matching black elastic. The same elastic material makes up the straps and waistband. The elastic inside has a brushed soft finish, making the underwear so comfortable that you can even wear it all day without experiencing any feeling of discomfort! The design is a bit old school which appeals to many people due to the uniqueness offered.
The elastic waist makes the fit snug and in general the fit of the underwear is great! The waistband's interior back is heat-sealed with the logo patch of Pulse underwear across the seam. The patch measures 7/8 inches by 2 ½ inches. The width of the strap stands at just under 1 inch and the cut provides a substantial tension on the underwear pouch so that any unsightly gaps that there might be around the edges will be limited. The material is stretchy so that there is no feeling of confinement.
If you want to get your hands on Pulse Sock Jock Underwear and that too at affordable prices then Deal by Ethan is the site for you which is trusted and loved by millions! Visit us today for some exciting offers!!