Whenever you pack your luggage for a vacation near the sea, you are always agitated about your swimwear. This is especially true for a choosy or a fashion conscious man who doesn't want to be seen in the same swimwear every day, but wants to carry light luggage at the same time. Vuthy understands your agitation and introduces its new Reversible Stripes Bikini Swimwear from its 2011 collection. So now forget worries and enjoy your beach holiday!
Vuthy, an exclusive brand from Maine specializes in swimwear, inner apparel, beachwear, T- shirts and tank tops. Vuthy's products are distributed to a wide variety of stores in Australia, Europe and USA. The designs have become extremly popular and have been shown in "Spamalot" and "Jesus Christ Superstar". Youngsters are especially curious about Vuthy's products because of its affordability. For instance, their Reversible Bikini Swimwear produces a new design when turned over on its other side. In fact, this is the most interesting feature of this bikini swimwear. Now you don't have to be abashed at being seen in the same swimwear every day. Change sides and you are a style icon!
Vuthy Reversible Stripes Bikini Swimwear has a black background with white stripes in the frontal area. The white stripes are also patterned on the bordered area of the swimwear. Apart from this, the bikini swimwear comes with an adjustable string, which makes for a great fit. The string can be adjusted according to the physique of the wearer. It also adheres to the body, thereby ensuring tightness and flexibility. The fabric used is of very high quality and thus retains stretchability for a long time.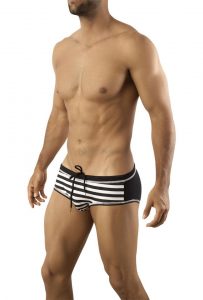 Mens bikini swimwear made its way into the fashion industry in the 60's, and has become a most loved item since then, particularly for those men who possess a superb physique and love to flaunt their bodies on the beach in bikini swimwear. This particular swimwear is also worn during different water sports. Since it perfectly fits the body and retains tightness even when the force of the water is great, this swimwear is preferred by most men. Vuthy believes in providing unique designs that can make its bikini swimwear the most preferred item of all.
So, now when you are sunbathing make everyone turn their heads and admire your tanned body. Just imagine how sizzling you will look near the rippling waters sunbathing in a Vuthy's Reversible Stripes Bikini Swimwear!
You can buy this unique product at our website DealByEthan which offers great discounts on mens apparel!