There are very few brands which have become so important due to their different and unique offering in the world of fashion that they cannot be ignored. One of those brands is Propaganda, which is eye catching, and the designs and styles are truly striking! The designs of the brand are bold, and grab the attention of others instantly! For all the attention seekers out there, grab Propaganda Underwear today!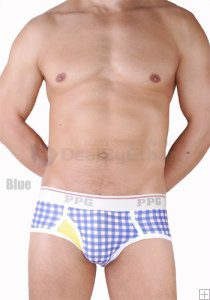 Propaganda sells a vast number of items and apparel like board shorts beachwear, bags, bikini swimwear, brief underwear, boxer brief underwear, jock strap underwear, hats, long sleeved t shirts, long sleeved shirts, long underwear pants, pants, muscle top t shirts, short sleeved t shirts, short sleeved shirts, short swimwear, tank top t shirts, sweaters and cardigans, etc.
The bikini swimwear of Propaganda is crafted from a mix of 18% polyurethane and 82% polyester with the logo of Propaganda and number printed in the back. The cut is perfect and low back so that it can be worn under low rise jeans.
The board shorts beachwear by Propaganda is made out of 100% polyester and available in solid colours as well as printed ones with hibiscus on them. The material is super soft and extremely comfortable.
Propaganda boxer brief is low rise and available in a number of prints in varying assorted colours. The material used is a blend of 9% polyester and 91% polyurethane and very comfortable for all day wear. It is stretchable as well!
The brief underwear is available in a variety of prints and patterns and made of a mix of 9% polyurethane and 91% polyester. You can also get your hands on their underwear made of mesh that has been woven with a mix of 18% polyester and 82% polyurethane. The mesh ones are super stretchy and quick dry as well as water absorbent. The surface of the material is luxurious and shiny.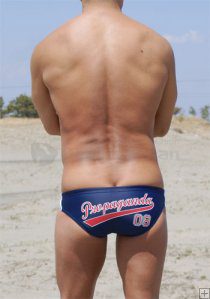 The jockstrap underwear of Propaganda comes with a waistband that is striped and the pouch is available in a variety of prints. The fit is comfortable and the material used is a mix of 5% polyurethane and 95% cotton.
Their long underwear uses smooth and light textile made of 15% polyurethane and 85% polyester. The designs are colourful and warm.
Shorts of Propaganda come with pockets and a variety of prints.
Visit Deal by Ethan today and order Propaganda underwear to get 3% discounts on all Propaganda items of clothing! Hurry!!