You deserve to get the maximum comfort from the underwear you wear. So, do not go ahead and pick just any underwear that will neither ensure a snug-fit nor offer full comfort in the long run. Moreover, if you are aware of the changing styles and trends, then ordinary, plain-looking underwear will not satisfy your needs. One brand that can fulfil all your needs is none other than Private Structure.
Private Structure is a well-known brand from Thailand that designs immensely stylish menswear.  This brand basically designs underwear for people who believe in wearing sensuous, trendy and comfortable clothing. They always use the finest materials for making their men's outfits.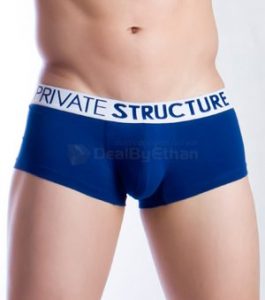 Private Structure designs a wide variety of men's underwear and swimwear like boxer brief underwear, brief underwear, bikini underwear, loose boxer shorts underwear, shorts ,bikini swimwear, boardshorts beachwear and square cut trunk swimwear – all their creations are highly chic and available in various colours and patterns. They even make some trendy long sleeved shirts, long sleeved T shirts, muscle top T shirts, short sleeved shirts, short sleeved T shirts, tank top T shirts, pants and sweaters and cardigans that are simply loved by men.
Although the design of their boxer brief underwear is quite old, with each new season the designers of Private Structure have tried to make it even more contemporary, body-hugging and comfortable. Not only have their designers made their boxer brief underwear trendier, but they also offer it in a variety of vibrant colour combinations. If you cast a fleeting glance at Private Structure Spectrum Boxer Brief Underwear, you can easily understand how it is different from ordinary underwear.
Unlike traditional boxers, Private Structure Spectrum Boxer Brief Underwear has a low-rise and body-hugging design that simply enhances your looks. It is provided with a broad waist strap that gives added support and tightness. Since the brand name is labelled on the waist strap, you can reveal it from under your low-rise jeans or pants.
The fabric used in making this boxer brief underwear consists of cotton (95%) and spandex (5%). Cotton, being quite soft, breathable and skin-friendly material looks after your comfort, whereas spandex ensures stretchability and elasticity. Private Structure Spectrum Boxer Brief Underwear is available in many vibrant and cool colours like navy, yellow, white, red, violet, salmon, royal blue, lime, green, aqua, black and grey.
You can get Private Structure Spectrum Boxer Brief Underwear at our website DealByEthan, which offers nice discounts on various menswear.