The Californian brand of menswear is unique in the sense that it gives first preference to the comfort of the wearer. There are choices galore for a prospective client to choose from, but unlike the usual clothing brands, there are no messages or text on their clothes. However, the fit is aimed for perfection, and gives the wearer the best possible comfort. Another point to note about 1st Gear menswear is that all the products of the brand are crafted from a material that is a blend of 8% spandex and 92% cotton. There are varied colour choices as well.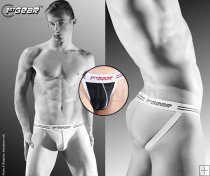 1st Gear manufactures a wide range of menswear like brief underwear, boxer brief underwear, short sleeved t shirts and jock strap underwear.
The range of boxer brief underwear of 1st Gear is named Zodiac Jock Love at First Sign and you will truly fall in love with their underwear at first glance. The name is so given since the sign of a horoscope sign is printed on the left and 'love at first sign' is written on the right. The fit is perfect, and the garment extremely comfortable.
Brief underwear made by 1st Gear is available in ranges like Baseball Jock Hot Right, Baseball Jock OK To Be Hot, etc. and as the names suggest, they are extremely sexy and hot. The side panels and pouch are in contrast with each other with the waistband bears the logo of 1st Gear.
The perfect fit, comfort and protection you get with 1st Gear jockstrap underwear is simply amazing! It has contrast stitching and trim and the waistband has the logo of the brand.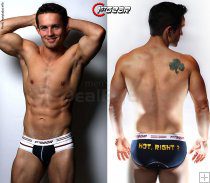 There are various choices in the T shirt department as well. Basically, they make short sleeved and comfortable tees perfect for a casual day out for sports or at gym. You can get them in round necks or V necks as well. The colours in which their shirts are available are basic white and black. The fit is perfect and aimed to highlight the best physical attributes of the wearer. So, if you have that perfect body, buy 1st Gear t shirts and flaunt it! Even without any text, the look of their t shirts is casual and cool.
Here, at Deal by Ethan we give amazing discounts and offers on all kinds of products including on the entire range of 1st Gear underwear and menswear. So, visit us today!