Jammers or jammer swimwear resembles cycling shorts and is regarded as nice racing swimwear. Looking at the design of jammer swimwear, it can confidently be said that the wearer will be able to swim and surf on the ripping waters most comfortably. The most unique feature of jammer swimwear is its tightness and adherence to the body of the surfer. Moreover, if you possess a well-toned, well-sculpted physique, it gets enhanced a lot with this swimwear. Presently, you may come across different brands manufacturing jammer swimwear for men. However, Tulio is one brand that is known for creating some unique jammer swimwear.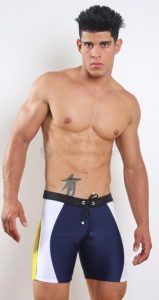 Originating in Brazil, Tulio creates some exclusive swimwear from high quality fabrics that perfectly suit your manly physique. Moreover, the variety of shades and combinations of Tulio swimwear are liked by surfers and swimmers. Apart from jammer swimwear, this brand also produces other men's outfits like boxer brief underwear, bikini underwear, brief underwear, G string underwear, jock strap underwear, thong underwear, bikini swimwear, G string swimwear; square cut trunk swimwear, boardshorts beachwear, shorts, muscle top T shirts, tank top T shirts, pants and jeans. Any man who sets his eyes on any Tulio product simply craves it!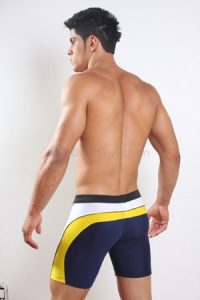 If you are on the beach, then nothing can be better than your Tulio Surfer Jammer Swimwear. Its perfect tightness and elasticity ensure that you surf on the water quite smoothly. The fabric that is required for making this jammer swimwear consists of nylon (85%) and lycra (15%). The presence of these two materials ensures proper stretchability. So while swimming or surfing, you can freely move your legs. The ace designers of Tulio have indeed combined their skills to bring forward such unique contrast and mix and match.  The yellow, white and navy coloured patches make this swimwear quite unique.
You can grab Tulio Surfer Jammer Swimwear at our website DealByEthan. We also offer amazing discounts on different menswear like men's underwear, men's loungewear and other outfits on our website.