Men's underwear that cannot provide immense comfort is of no use. Therefore, while choosing underwear you have to be careful about the cut and the design. It is essential that the underwear should be equipped with a roomy pouch that will provide adequate support to your package. In addition, the design should elevate your comfort. It can be said that brief underwear meets all these requirements. Whether it is the design or the fit, everything suits your needs. Nowdays, one can come across many designers who are putting in a lot of effort to create some sexy and chic brief underwear. However, the brand that has employed some ace designers who have created some unique brief underwear to attract eveyone's attention is 3G Actualwear.
3G Actualwear started in Canada in 2007. Since its inception, this brand has been producing some unique and stylish mens outfits and soon became popular among men. It designs a wide variety of menswear and underwear like boxer brief underwear, G string underwear, thong underwear, brief underwear, loungewear, square cut trunk swimwear, bikini swimwear, tank top T shirts, short sleeved T shirts, muscle top T shirts etc. Whether it is the design or the fabric – everything about 3G Actualwear is simply mind-blowing! If you possess a chiselled physique and eager to flaunt it, 3G Actualwear actually provides that scope.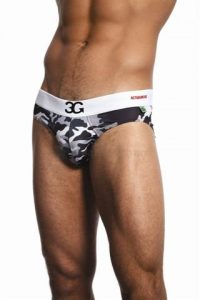 Take a look at this 3G Actualwear ARMY Brief Underwear! It is crafted from a fabric that consists of polyester (92%) and spandex (8%). Thus, you can be assured of complete tightness and elasticity. It is because of these two materials that this brief underwear retains its original shape. The camouflage fabric is indeed attention grabbing. This underwear is provided with an 11/2 inches broad waist strap that ensures a snug fit to this underwear. The presence of the brand logo on the strap allows you to reveal the strap from under your pants. Just enhance your classy image with this brief underwear! A spacious pouch provides proper support to your package. This underwear is sure to elevate both your style and comfort.
You can find 3G Actualwear ARMY Brief Underwear at our website DealByEthan, which offers great discounts on different modish mens apparel.