Cottelli Collection is an underwear brand that has been catering for women for a long time. The Dutch lingerie label has (in recent times) started catering for the male as well and in a short time has created a reputation for itself for tapping into the wildest thoughts of males and females alike with their unique creations and collections! Not only are they sexy but have a delicacy and sophistication to them all at the same time!
Besides essentials like bikini underwear, g string underwear, boxer briefs, jock strap underwear and thong underwear, Cottelli Collection also has muscle top t shirts and tank top t shirts in many variations of materials used and styles.
The bikini underwear is available in shiny and solid slip variations. Both are made out of 100% polyamide and are available in colours like black, white and red! The material makes both transparent, but different affects are achieved despite the same material used. The front pouch is large so there is plenty of room for you, and no room for discomfort!
The boxer brief has variants as well. You can pick one that is made purely of mesh and net and is totally see through. There is another that is part netting, only the front and the sides are of netting, which is made of 10% spandex, 30% polyamide and 60% viscose.
There are options galore in the matter of g strings by Cottelli Collection as well! There is the wide waistband net g string, minimal low cut pouch g string, ribbon velvet g string, jingle bells velvet g string, tape measure g string, pig g string, parrot g string, etc. Some of their underwear is solely meant to excite and stimulate your partner!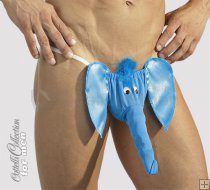 The jock strap underwear range of Cottelli Collection has two basic features- one is functional and another is purely for the look of the underwear!
Cottelli Collection's thong underwear also has different kinds of features and functions. There is their plain underwear which serves all the basic functions and another to arouse your partner's excitement!! Now you can also get them in velvet!
If you want underwear of Cottelli Collection under your belt then visit Deal by Ethan today and get exciting offers and discounts!!