Whenever men want to create the perfect first impression with their confidence then Andres Velasco underwear is the brand for you! This sexy men's underwear brand is the ultimate in style, and the materials used are really soft and comfortable so you feel confident all day long. You can wear them and not feel an ounce of discomfort. Andres Velasco underwear is the first and last choice for many men across the continent.
Andres Velasco manufactures a wide variety of styles and types of men's underwear like boxer brief underwear, bikini underwear, brief underwear, etc.
The bikini underwear by Andres Velasco is called punch bikini underwear and is available in vibrant colours like turquoise and pink. The bikini underwear does not have any print or patterns on it, but what it lacks with patterns is made up with the bold use of colours and the wonderful texture of this men's underwear. The material is just a perfect mix of various fabrics that lend you comfort and softness.
Boxer brief underwear by Andres Velasco is called punch trunk boxer brief underwear. The biggest feature of the punch range is the material used which is a mix of nylon and spandex. The material this is irresistibly soft and silky. There is also a light sheen on the underwear which makes it an instant attention grabber. The usual colours that the underwear is available in are bold versions of turquoise and pink which make for an interesting use of colours and make the underwear doubly attractive. The pouch provides perfect support to the private parts of the wearer.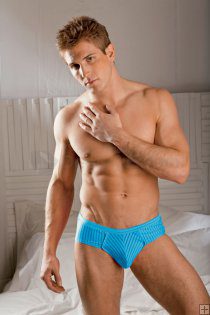 The brief underwear by Andres Velasco sports the usual great features and characteristics of its other styles of this underwear for men. The self patterns on the entire outfit makes it eye catching and beautiful. It also adds on the element of fun and naughtiness. They are perfect to be worn under tight fitted jeans and trousers without the fear of visible lines or peeking underwear.
The material used for all the different style of Andres Velasco underwear is the same shiny mix of nylon and spandex and the fabric is of top quality. Andres Velasco does not compromise of the quality of material used, so you may be assured of the durability of its products.
Visit us today at Deal by Ethan and get great offers and discounts on the entire range of Andres Velasco underwear! Hurry!!