There have been consistent endeavours and attempts on the part of the men's underwear brand- C-IN-2 to bring in reinventions and introduce better and improved lines of men's underwear that any man will feel comfortable and proud enough to flaunt! Not only does the brand use different materials but prints and colours. However the classic jock strap style of men's underwear by C-IN-2 is available in the few basic colours of gray, white and black.
The material used to craft this article of men's underwear is 100% cotton and has been styled in the manner of original jockstraps that are absolutely old school. The waistband of the jockstrap is super tall measuring an impressive 2 ¼ inches. Modern microfiber comprises the waistband of the underwear and the interior side of the jockstrap is textured and plush and very soft to touch. There is some nice elasticity in the waistband, providing good stretch for movement and comfort, with a secure fit and lots of support.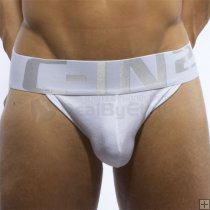 There are no decorations on the waistband of the underwear except for the C-IN-2 logos which are woven in gray and repeated all around. The sizes are well cut and offer a great fit. The tags of the size and fabric are situated on the interior back of the underwear where the main logo tag measures 1 x 1 ½ inches. It has two flaps which are folded over and attached to its right side, measuring 1 x 1 ½ inches each. The tags are printed on smooth fabric and not on paper, which proves to be quite an irritant in other underwear brands.
The waistband's interior is attached to the jock's straps, composed of microfiber elastic which is although light weight, quite durable. The straps give a secure feeling when worn and they are not very tight or do not dig into the backside. The pouches are supportive and comfortably engineered. The pouch gives good lift and shape to the wearer, creating a nice profile and that too with plenty of room!
The pouch has single-layer material which may prove to be a bit see-through with visible outlines. The pouch's centre seam is unobtrusive and pouch sides are reinforced with elastic, preventing any gapping between the leg and the pouch!
Are you intrigued and cannot wait to grab C-IN-2 jock underwear? Then visit us today at www.dealbyethan.com and avail of the great discounts and special offers today!!