If you like cool, casual and trendy stuff then Funky Urban is your brand without any doubt! The brand became popular ever since it was first incepted in the year 2005 in Miami. They became popular for their silk t-shirts that feature exciting and interesting quotes and phrases. They believe in creating fashionable clothes and have been designing funky and printed t-shirts, hats, caps and underwear for men that are simply irresistible!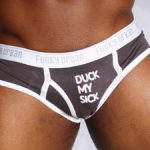 The brand has one simple motto to create fashionable clothes that allows the wearer to make their own fashion statement which meets that requirements and suits their individual personalities. While every other brand simply creates a range of apparel for men, Funky Urban goes a step further and puts interesting phrases, lines and quotes on their apparel to provide different kinds of wearer with something truly different and spicy. Their T-shirt range (that is available in more than twenty colours) has left an indelible impression on many men who love to flaunt their bodies in them.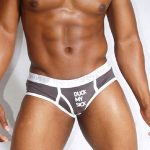 The credit for launching this brand goes to Juliano Echeverri who wanted to introduce trendy and fashionable clothes for men. Echeverri took a trip to Europe, South and Central America that lasted for around four years, and then resolved to launch the Funky Urban brand of menswear. The brand has brought a revolution of its own kind in the mens fashion industry. A revolution that has encouraged men across different countries to sport the Funky Urban range of apparel – apparel that is daring, bold, splendid and above all fashionable. So, if you are planning to get into Funky Urban underwear then you could don the Funky Urban Brief Duck My Sick underwear. This particular design is available in vibrant colours such as black, Light Blue, White and Charcoal. It comes with a contrast binding and smooth and stylish waistband that has the Funky Urban logo all over it. This particular brief is ideal for those who love to enhance their package and do not wish to reveal too much of their body at the same time. It helps in bringing forth your sensuous and wild side. It is made of fabric, which is of the highest quality, and is mostly cotton (97%) with a hint of Spandex (3%) in it.
You can order Funky Urban Brief Duck My Sick underwear and a range of other mens brand at our website DealByEthan which provides great and exciting discounts on a wide range of mens apparel!