Asry Textiles is a company that had been set up in the year 1999 and it is the founder of the brand Doreanse. The Turkish brand manufactures products that are sure to entice all! Not only does the apparel of the brand have killer looks, but it is extremely comfortable as well! Doreanse underwear does not believe in compromising quality and comfort just to up the sexy quotient.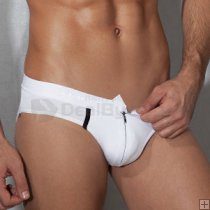 Doreanse manufactures various articles of clothing which include bodysuits, bikini underwear, boxer brief underwear, g string underwear, brief underwear, long sleeved t shirts, jock strap underwear, long underwear pants, short sleeved t shirts, muscle top t shirts, thong underwear, tank top t shirts, etc.
The bikini underwear of Doreanse is made of 100% cotton and offers full coverage. It is available in some innovative and cool prints as well as mono colours. Some of them also use a material that is a blend of 10% lycra and 90% cotton/ modal which has one added advantage that it is 100% cotton, which makes it slightly more stretchable.
Boxer brief underwear from Doreanse is available in many variations and in fact you have more than 45 options from which you can choose according to your tastes. You can choose plain ones, athletic ones as well as printed ones. Some are available in 100% cotton and some others are made of 10% lycra and 90% cotton and modal.
Doreanse's brief underwear is available in many variations of styles and prints. There is the zipper brief underwear that has a zipper on the pouch. There are some styles in which the pouch features some bold pattern which is bound to catch the attention of all those who are looking at it! Mixes of 90% cotton and modal and 10% elastane and 15% elastane and 85% polyester are used for this range of underwear.
The g string underwear of Doreanse is also perfect for those who do not feel comfortable about revealing too much. There are styles that are less revealing as well as ones that reveal quite a lot among their g string underwear range. Some are made of a mix of 10% lycra and 90% cotton and modal while others of 10% lycra, 45% modal and 45% cotton. G string underwear as well as thong underwear made by Doreanse is available in metallic and slightly shiny variations.
So, get a taste of Doreanse underwear by visiting us at Deal by Ethan and taking a look at the range of Doreanse underwear today!