The American lingerie manufacturer Elegant Moments first started its production around 1983. It has built up a reputation for itself in producing various kinds of lingerie meant to spice things up in the bedroom and has maintained that reputation through the years!
The varieties of items manufactured by Elegant Moments underwear are costumes of different kinds, boxer brief underwear, jock strap underwear, thong underwear, pouch underwear, harness, vests, etc.
The boxer brief underwear manufactured by Elegant Moments is far from being like ordinary boxer briefs meant for daily wear, and there is nothing ordinary or everyday about them! You can get them in leather, vinyl and fishnets. The vinyl and leather boxer brief has a breakaway front! To heighten the brooding sexy factor these are available in black!
Elegant Moments produces a number of costumes aimed to add to the spice in your bedroom! There are costumes like shipwreck stud, hot patrol, pirate, army man, rack hunter, leather harness with attached pouch underwear, etc. There are even costumes meant for couples like the paradise couple's costume, fantasy flight black couple's costume, dream team couple's costume, surgical team couple's costume, wild couple's costume, etc. There is also their vinyl penguin pouch underwear with a penguin on the pouch.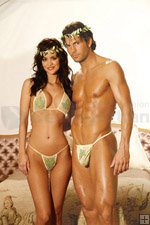 If you want to impress your partner with a set of harnesses, then Elegant Moments has the solution for that as well! The brand manufactures fine quality harnesses in 4 pieces and they are adjustable too! The set includes the arms bands, collar and leather harnesses.
Jockstrap underwear of Elegant Moments is available in lycra and leather. The underwear is available in one size that will fit all. The style produced by the brand is not only full of functionality and utility but stylish as well!
The pouch underwear is available in normal and g string types, and in most materials like leather and vinyl. One of the styles of men's underwear is available with O rings that enhance the appeal and sexiness of the underwear!
Even their thong underwear is available in leather and vinyl. So you can choose from the shiny and matte finish. There are varieties like one with lace up front, one with snaps, with cut out front, etc.
The leather vests for men area available with snap front and side pockets.
Visit Deal by Ethan today and browse through the entire collection of Elegant Moments!