Franklyn clothing is an Australian brand that has carved out quite a niche for itself with their designs that make you stand out in the crowd! The brand knows that a man's clothes not only tell the wearer about his sense of style and fashion, but about his economic and social standing as well as his masculinity and confidence. These days, not only the women, but men are equally concerned about their looks and how they appear to the eyes of the other people. The designs of Franklyn are created and brought to life keeping this mindset in mind.
If you want to emphasize and flaunt your masculinity to all, then this is the brand for you! The range of jumpers, hoodies and shirts by Franklyn help you turn the heads of people and make you the centre of all attention. Their fit and style help you look unique, strong and sharp! Make even the most boring and casual days turn special by wearing the range of Franklyn clothing and stand apart from the rest!
There is no question of compromise being made as far as the materials being used are concerned and the durability and comfort of the clothes is great. 100% combed cotton is used and the virtue of this material is that you can stay dry and cool even after a gruelling and sweltering day! The easy air flow helps in the evaporation of sweat very quickly and easily, making your day super comfortable. In fact, their shirts come pre-shrunk so that they remain durable for long.
Franklyn answers the prayers of men who are practical and want style but without burning a hole in their pockets! Their range of menswear is not only fashionable and stylish, but extremely reasonable and pocket-friendly as well. Their products can be got at unbelievably low prices and there are huge discounts for bulk purchases of their products as well.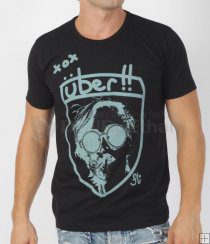 The online underwear store for men – Deal by Ethan makes shopping even easier and lucrative! On a first time purchase of Franklyn clothing you get a discount of 10%. This sale has in fact, reached a crescendo with the online men's underwear store offering an unbelievable deal that will leave you gasping! You can now buy one article for clothing from Franklyn and get another one absolutely free!! Yes! It's unbelievable but true!! Visit the site today to find out for yourself!