The late 2008 saw the introduction of Score underwear and its launch saw the focus of underwear label on cotton basics. The style focus of the fashion label is modern and sporty. The main emphasis of the brand is on sporty themes which can be understood by the approach of "undressing" the model based on sports activities like hockey and tennis which can be found on the website of Score underwear!
John Falocco designs the underwear of Score and Vista Video's men model them. There are many kinds of cuts and styles that Score manufactures like full cut brief, trunk, low rise brief, thong, etc! They are available in basic colours- black and white with 100% cotton as the material for crafting them.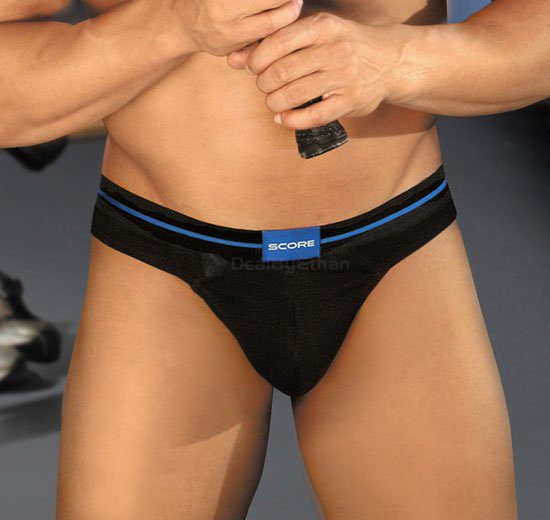 The Score underwear thong, which is the topic of discussion here, is cut in the traditional way and a conventional blue stripe accentuates and runs all way around the tall elastic waistband, which is exposed. The interior facing elastic has some basic textures. The logo tag on the frontal part of Score underwear wraps over the waistband's interior (where the wash/ care and material information is printed) is a nice touch of design innovativeness. The tag stands at a measurement of 2 inches x 1 ½ inches and is crafted out of a smooth blue fabric going well with a striped accent!
Score underwear thong gives a great fit so that you can be assured that there will be no looseness for you to worry about! The extension of the thong's back runs up to 1 inch below the waistband's base which measures approximately 4 inches across and then tapers down to 1 inch at the strap's narrowest point. ¼ inch of covered elastic reinforces the thong edges and is quite thick. However, there is not too much stretch or tension to the pouch edges.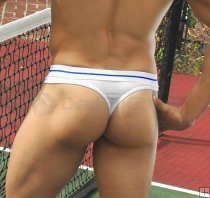 The pouch's front is double layered with cotton fabric, thus giving a sturdy, durable, nice feel to the underwear! The great design of the pouch gives great shape and lift to the wearer! There is enough room so that the wearer does not feel cramped and uncomfortable. The cut of the thong is classic, giving a sporty and masculine look to the underwear as well as the wearer!
The pricing of the Score underwear thong is quite reasonable and on top of that you can avail of the bargains and deals offered by us at Deal by Ethan!! Hurry!!