MANStore Guywear has successfully designed some of the most exotic looking apparel for men using the best quality fabrics. Today, the brand offers a wide variety of apparel including, Boxer Brief Underwear, Brief Underwear, G String Underwear, Jock Strap Underwear, Long Sleeved T Shirts, Muscle Top T Shirts, Short Sleeved T Shirts and Tank Top T Shirts. If you thought that Bodysuits were out of fashion, then think all over again as MANstore Guywear Bodysuits are one of the brand's finest creations, and are being admired by many men for the vibrant colors and styles that the designing team at MANStore Guywear are using to create them.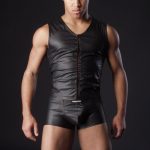 The MANStore Guywear range is defined by its sheer fabric quality and its unique and sexy cuts. Men who do not fear exposing their body and are fond of donning bold and sexy underwear will definitely feel like grabbing one or more styles of underwear that are currently being offered by MANStore Guywear. However, if you are looking for trendy T-shirts, Muscle tops and shirts, then the MANStore Guywear range of shirts, tops and T-shirts are certainly the best.
There is a certain quality and style in MANStore Guywear range of shirts and T-shirts that is difficult to imitate. The brand has brought about a revolution in the mens fashion industry by introducing fashionable, stylish and vibrant colored T-shirts and shirts. Whether you are looking for Long-sleeved T-shirts or short-sleeved shirts, MANStore Guywear can provide you with exactly what you are looking for!
MANStore Guywear range of shirts and T-shirts can be worn on a pair of long boxer shorts or can even be clubbed with a pair of jeans. Whatever your choice, any and every kind of wearer must glance through the MANStore Guywear collection for once and only then make decision of purchasing  a shirt or T-shirt.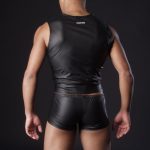 For those who are new to the brand, the MANstore Vest Muscle Top T Shirt available in black color is a great choice to begin with. It is made of 64% Polyester and 36% Polyurethane and is extremely stylish and comfortable. It features a micro fibre layer on the inside, which is very easy to wash. This particular muscle top T-shirt can be easily worn to the gym. You will love this muscle top T-shirt that is so unique and innovative.
You can order for MANstore Vest Muscle Top T Shirt at our website DealByEthan that provides a wide range of menswear!