The brand Sweat Undergear is a Canadian underwear brand that is aimed at reflecting the fashionable and athletic lifestyle of the modern man. The menswear complements and completes the hectic life of men of today without compromising on their masculine side. The motto of the brand is to make men feel sexy, masculine and free enough to show his assets with pride to everybody!
The brand provides the wearer with a feel and look that is both appropriate and timeless. The products manufactured by the brand include brief underwear, boxer brief underwear, short sleeved t shirts, jock strap underwear, etc.
The boxer brief underwear of Sweat Undergear resembles trunk underwear and is available in two basic colours- black and white. The waist is low enough to titillate the senses but high enough that it remains decent. The material used to craft the underwear is a blend of spandex and cotton which is soft, stretchable and comfortable. The pouch is contoured and the leg comfy. The waistband has the logo of Sweat Undergear.
The brief underwear of the brand falls under three ranges- sweat, fighter and sport and the colours used are their characteristic black and white. The material used is a blend of 10% spandex and 90% cotton and is ribbed in the most beautiful way so that the fabric is soft and comfortable. The fit is superb and the ribbed nature adds weight to the material. There is piping on the legs in contrasting colours which is attention grabbing.
The jock strap underwear of Sweat Undergear is sexy and hot and at the same time fully functional. The finish of the underwear is excellent. The waistband of the underwear is wider than most conventional jockstraps, which adds to the support factor. The pouch is comfortable and made from a mix of spandex and cotton and the leg bands are classic and fitted. The logo of Sweat Undergear is right there in the centre of pouch.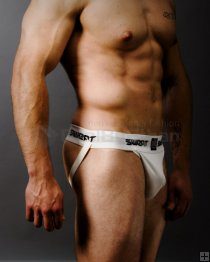 Sweat Undergear manufactures short sleeved t shirts which are super-soft due to the use of brushed spandex and cotton blend, which is quite stretchable. The logo of Sweat Undergear is displayed on the chest, which adds a bit of contrast. The slim fit of the apparel hugs you to offer a great view of your physique.
Take a good view of the entire collection of Sweat Undergear by visiting Deal by Ethan today. We are one of the largest stockists of fashionable men's underwear and you will not be disappointed. Hurry!