Marc Jacobs' wedding this year to long-time boyfriend Char Defrancesco arguably marked a watershed in male wedding fashion history. If in the past, it was all about 'saying yes to the dress', these days, the groom's outfit is just as an important – which makes sense considering that fashion is either Instagrammable or it isn't really fashion. For this stunning celebrity-studded wedding, Char opted for an emerald green velvet tuxedo with accompanying bowtie, while the top-selling designer wore a more 'serious' dark green suit with a pale grey Windsor knot tie, cream patent leather shoes, and one feature that lent his outfit just a touch of magic: a single lily pinned to his lapel. The way the two outfits combined was testimony to the modern penchant for looks that complement, rather than match each other. What other trends are big for grooms this year?
It Starts with the Ring
As mentioned above, men's wedding fashion is growing in importance, and this means paying more attention than to just the suit. The ring – a symbol that both bride and groom will cling to for a lifetime – is now expected to be an expression of a groom's creativity, lifestyle, and taste. Instead of the stock simply yellow gold band, unique men's wedding bands are gaining ground. New materials like wood, titanium, and palladium are making their presence felt. Some men (see Ryan Reynolds) are opting for wide, fashionable wedding bands that ooze sartorial flair. Others are opting to stack rings, or choosing rings made in mixed metals (think yellow, rose, and white gold or platinum).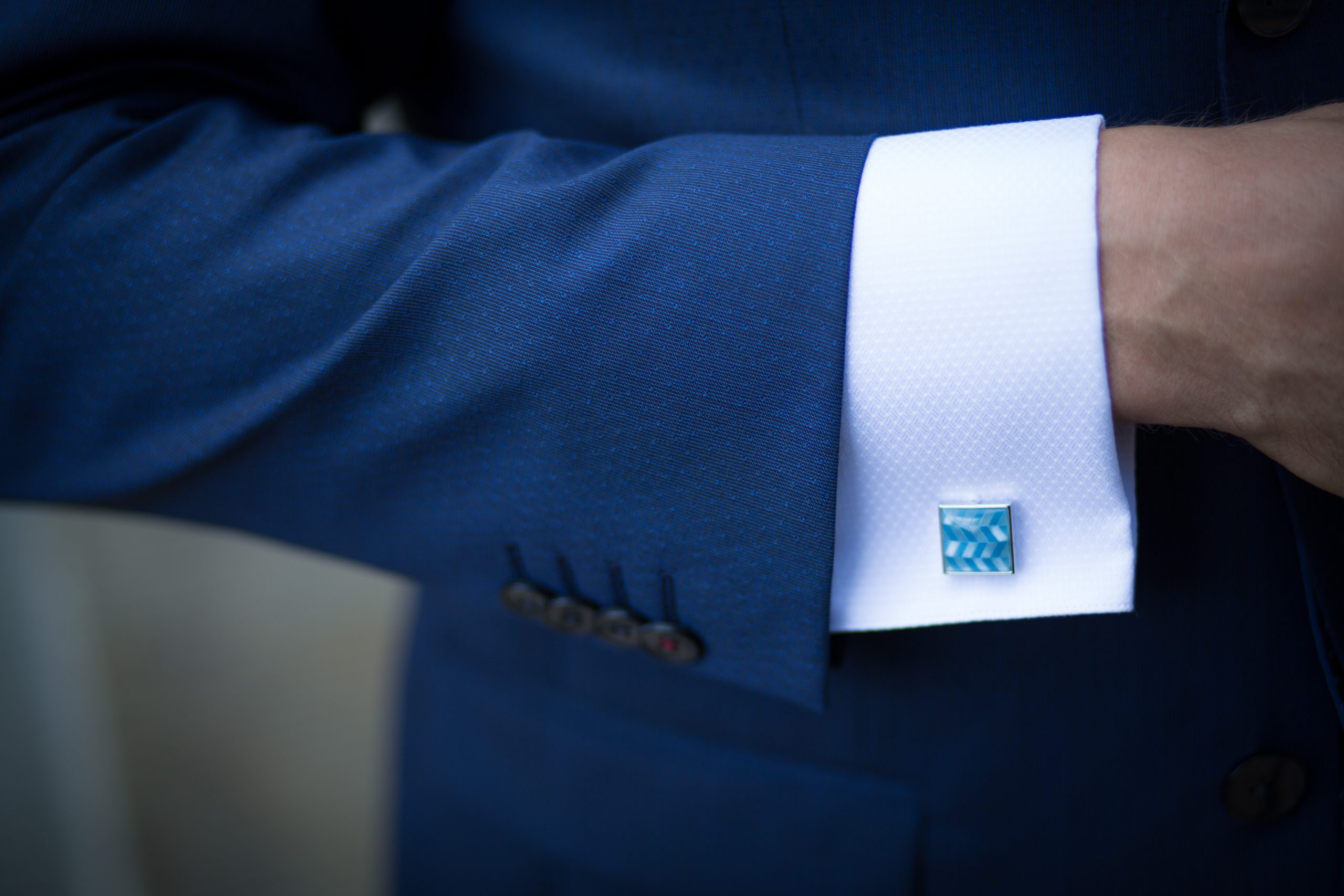 Going against the Grain
It's your wedding so why not dress in materials that are stylish and comfortable? When French designer Etienne Deroeux (who has shone in New York, Milan, London and Paris) got married recently, he remained true to his passion for active, urban looks by totally foregoing a tie and opting instead for an Indian collared top, worn beneath a simple dark blue one-button jacket and slim fitting trousers, coupled with camper-style outdoor shoes. The simplicity of his outfit went beautifully with his bride (Rae Boxer's) spaghetti strap dress, which was in white silk and devoid of all traditional embellishments such as beading, lace, and embroidery.
Express Yourself
At socialite Amanda Jones' recent wedding to Kevin Vaughan, the groom showed fashionistas how 'new traditional' is done. He wore a black tuxedo with slim fit, ankle-length trousers and gorgeous black suede slip-on shoes. His jacket had just one, low button and satin labels, which complement his two-toned shoes (in black and grey) to sweet perfection. His outfit went perfectly with his wife's ultra glam yet classical gown, while paying perfect heed to current trends in terms of cut and jacket choice.
Stars in Your Eyes, Stripes on Your Suit
When fashion designer Victor Glemaud married his diplomat fianceé, both wore striped suits – but in totally different styles. Victor opted for a cobalt one-button suit with wide blue stripes, paired with a baby pink top and a tie in the same color. His fiancée went for a more serious pin-striped suit in navy blue with a raspberry-hued tie that complemented Glemaud's pink looks to perfection.
It is a unique time in men's wedding fashion; one in which a groom can really show off his passion for style and fashion. From unique wedding rings to casual tops, velvet jackets, and brightly colored outfits, there are many ways to take a leap away from the expected. Before making your decision, check out the choices made by your favorite celebrities and find the inspiration you may be looking for.