You need to be prepared. Every day could present a situation that could lead to unexpected sexual encounters, and it is at times like these that a good set of sexy underwear is a must. Loose, boring, conventional underwear can be a major turn-off and may very well ruin your chances for a second date. Twink Solid Longbox underwear will ensure that you never spend another Saturday night alone.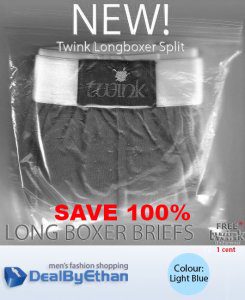 Twink Solid Longbox underwear are comfortable, soft to the touch and tailored for real men. It is made from high-quality, breathable, durable fabric that withstands wear and tear and keeps you dry. The Solid Longbox is also available in all sizes and comes in red, white, black and light blue.
In addition, for a limited time only, they are now FREE at DealbyEthan.com! So, don't hestate a second longer. Order yours today while supplies last!