Tulio is a Brazilian company whose popularity has spread across the globe like wildfire! In this wildfire, all conventions and traditional beliefs have been burnt away, and all that remains is bold and uninhibited fashion and style, which is almost like a refreshing wave in the sea of modernity!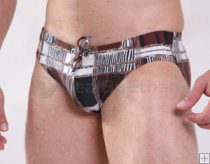 The sheer varieties of styles manufactured by the brand as well as the designs and patterns are sure to leave you breathless! The styles include bikini underwear and swimwear, boardshorts beachwear, brief underwear, boxer brief underwear, g string underwear and swimwear, jock strap underwear, jammer swimwear, thong swimwear, square cut trunk swimwear, shorts, muscle top t shirts, jeans and pants, tank top t shirts, etc.
Their bikini underwear and swimwear is available in many types including one that is laced up. The material mainly used to make the style is a mix of 15% lycra and 85% nylon. The pouch of the underwear is sexy and the material used is of high quality. The pouch is engineered to offer maximum support and enhancement.
The boardshort swimwear is made of 100% nylon and is perfect for a day out at the beach due to the fact that it is quick drying and facilitates good air flow.
The range of boxer brief underwear of Tulio is called Juicy Fruit due to the use of a variety of interesting and fun colours! The material used is a blend of 10% spandex and 90% cotton. The design is great with a grey panel on the lower front portion of the pouch. The trim and stitch is contrasting.
The brief underwear is stylish with its unique combinations of colours and piping. The material used is a mix of 10% elastane and 90% cotton. The waistband is wide and soft. You can get underwear made of mesh, which has been equipped with an elevator pouch, which gives enhanced lift.
For g strings, you can take your pick from two different styles. The material used is soft and comfortable and suitable for all day wear.
Tulio's jammer swimwear is available in sporty designs with side panels which add a dash of colour. The material used is a mix of 15% elastane and 85% polyamide nylon.
The jockstrap of Tulio comes in interesting and risqué prints which add to the appeal of the style. The thong swimwear also comes in variants including other styles.
Visit Deal by Ethan today to get all the styles of Tulio underwear for men and that too at discounted rates!!